The Glimmerglass Festival is gearing up to celebrate its 40th anniversary of artistic collaboration, timeless summer performances and operatic innovation. Believe it or not, we are only 40 days from our opening night, and to celebrate our growth through the decades, we are counting down with #40to40.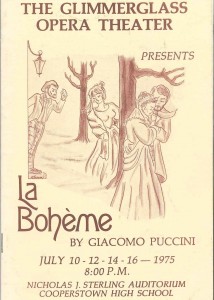 As we eagerly prepare for the 2015 season, we will be sharing memories from each year of the Festival: 40 days for our 40th anniversary. Come journey with us as we recount some of the Festival's most splendid moments from its inception in 1975 to the present day.  Please feel free to use the hashtag on social media to share your own Festival nostalgia, and follow along as we tell the story of The Glimmerglass Festival.
Kicking off with the summer of 1975, a program image of The Glimmerglass Festival's first production, La bohème, takes us back to the Nicholas J. Sterling Auditorium of the Cooperstown High School, where Glimmerglass staged all of its programs until 1987. The inaugural production was performed four times in front of an audience of 1,200 area residents.
To wish us a happy birthday, visit http://www.happy40thglimmerglass.org/