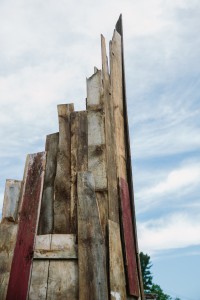 The Glimmerglass Festival features an art installment on its campus every season which personifies elements and themes from one of the concurrent Festival productions.
For our 40th anniversary, we are pleased to announce that set designer Troy Hourie has crafted Enchanted Spaces: The Wisdom Tree, a media-based, large-scale landscape installation inspired by the spiritual themes and mystical qualities found in this season's production of The Magic Flute.
The Wisdom Tree sits on the Festival's campus and is visible from Route 80. It reflects regional traditions of storytelling, as well as the woodland-based sets of The Magic Flute, which were designed by Hourie himself.
The sound and mixed media landscape in The Wisdom Tree's interior symbolize a group gathering around a camp fire, telling stories. Four windows – one on each side of the tree – have been designed to host a single storyteller experience for the viewers who explore them.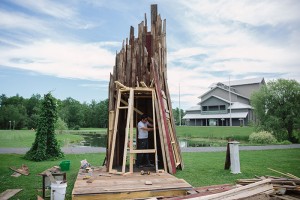 "This enchanted adventure is further intensified as a shared experience with multiple viewers' faces positioned in the surrounding windows, resembling an inverted totem pole," Hourie said of his creation. "Those brave enough to crawl all the way inside the trunk will have a special aural experience that will resonate in a very 'magical' way."
The story-tellers that are featured in this piece hail from four different Native American tribes: Melissa Tantaquidgeon Zobel, Mohegan; Kay Olan, Mohawk; Cherly Savageau, Abenaki; and Robert Peters, Wampanoag. Each provides tales or poems based on Native folklore.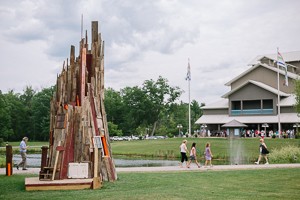 Hourie, who designed the Upstate New York-themed scenery for the 2014 production of Ariadne in Naxos, is in his second season with the Festival, and has also created art installations for ARTErra in Lobao da Beira, Portugal and the Arteles Creative Center in Hämeenkyrö, Finland, as well as many other theaters and opera companies throughout the world. Contact Troy with your thoughts on the installation at troyhourie@gmail.com. 
Video by Jacob McAuliffe