Yesterday, the Cenerentola team moved into the theater for their first rehearsals onstage. Since we're preparing to open three operas and a dramatized concert within the space of just a few weeks, we're  holding concurrent rehearsals in venues all over Otsego County. The Cenerentola team had been spending their time at Templeton Hall, a lovely banquet facility in downtown Cooperstown, while they awaited their turn in the theater. When I attended a run-through on Tuesday, the doors to the hall were open, and the singers' voices wafted out into the street. At one point, a couple of curious teenage boys came to the door and gaped awhile at the combination of virtuoso vocal athleticism and wacky physical comedy.
Cenerentola, Rossini's version of the Cinderella story, is a very funny opera, but the title character is no caricature. According to director Kevin Newbury, "Her story is essentially about forgiveness, generosity and compassion in the face of adversity."
It's the adversity that creates some very funny situations. "The key to comedy is encouraging the singers to play the stakes for real," says Kevin. "Laurel and Hardy are funny because of their drive and their need. Getting a piano up the stairs is a matter of life or death for them, and although the pratfalls are hilarious, the physical comedy comes out of the task itself. If you have nothing but pratfalls, the comedy feels distant. It gets old. If the stepsisters are really desperate to look their best, then everything they do to get ready for the ball is funny."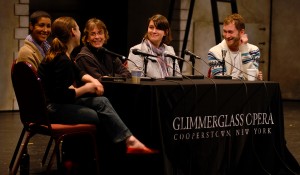 Today was the Production Seminar with members of the Cenerentola team. That's me at the end of the table, with my back to the camera. Judging from the looks on their faces, this is probably one of the many times I gushed that I haven't stopped grinning since the run-through. Next, from left, are costume designer Jessica Jahn; lighting designer D.M. Wood; set designer Cameron Anderson; and director Kevin Newbury. These seminars allow artists from each production to discuss their process with company members and the general public.
It's too early to share any video clips of this production, but here's a bit of high-stakes comedy to bring a smile to your face.
[youtube B7b0JcuwkIE]