Young American Artist Alison Bates is in her first year with Glimmerglass Opera. She is covering (or understuding) Violetta in La Traviata and Anna Gomez in The Consul.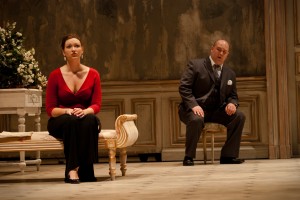 GGO: What are you looking forward to most about your time at Glimmerglass Opera?
A: If I had to choose the one opera role out of the entire volume of opera literature that I have always most wanted to sing, it would be Violetta in La Traviata, so getting to cover Violetta, learn and coach the role in-depth, observe a great Violetta like Mary Dunleavy, and have one full cover performance on the stage of the theater with the full orchestra is absolutely a dream come true for me.  I've been wanting to learn and sing this role ever since I started college, so finally having an opportunity like this is incredibly exciting. 
GGO:Where do you like to go to have fun?
A: I have to admit that I'm sort of a homebody.  I spend so much time away from home that my greatest joy is getting to be home with my husband and family.  I either like snuggling on the couch watching movies with my husband or swimming at my parents' pool with my entire family gathered together.
GGO: What is your all-time favorite comedy movie?
A: I don't have a lot of "favorites," but if I had to pick one, I would say probably Monty Python and the Holy Grail, because it never fails to make me laugh.  Just listening to sound clips from the movie are enough to make me laugh on a bad day.
GGO: What is one food you can't live without?
A: Macaroni and cheese.  It's easy, it's cheap, and it's the ultimate comfort food.