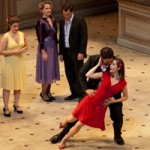 Our 2010 Young American Artists joined us in Cooperstown this week, and their days are already filled with orientations, costume fittings, coachings and chorus rehearsals.
We are very proud of our Young American Artists Program (YAAP), which provides training and performance experience for talented singers at the beginning of their professional careers.  The program, founded in 1988, has become a core aspect of our Festival. Each year, the program receives about 700-800 applications. About 200 singers are heard in live audition, and between 30 and 40 singers are granted positions. Click here to read about the 2010 program participants.
While here, the singers receive coachings and master classes. Each singer either presents a solo recital in Cooperstown or Cherry Valley or performs in a concert, such as this year's Killer B's concert featuring Steven Blier. The Young American Artists generally sing smaller roles in the operas and cover or understudy principal roles (like that of, say, Tosca). This year, however, the entire cast of The Tender Land, which composer Aaron Copland wrote for young singers, will be made up of Young American Artists. Stewart Robertson, who helped found the program in 1988, returns this summer to conduct the American opera.
Introducing the cast of The Tender Land (in order of vocal appearance):
Beth Moss: Rebecca Jo Loeb
Ma Moss: Stephanie Foley Davis
Mr. Splinters: Chris Lysack
Laurie Moss: Lindsay Russell
Top: Mark Diamond
Martin: Andrew Stenson
Grandpa Moss: Joseph Barron
Mrs. Jenks: Jamilyn Manning-White
Mrs. Splinters: Claire Shackleton
Mr. Jenks: Will Liverman