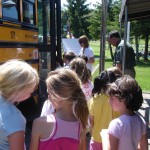 Yesterday, we had close to 80 second graders from Cooperstown Central School join us on campus for a backstage tour, as part of a two-tier educational program offered to area schools.  
June and I worked with the students in November for OPERA-tion Quilt, when they learned what goes into creating an opera production.

To reinforce what they learned in the fall, the students joined us yesterday to see everything first hand. We were impressed with how much they remembered from our November presentation.
As a quick recap, we asked what it takes to present an opera, to which they responded:
"People to sing and act."    
"A lot of hard work."    
"Someone to build."    
"A lot of people."    
"Costumes."    
"Someone to plan everything."    
"People to play instruments."
And more.
The backstage tour is presented in part by the Bassett Healthcare/Glimmerglass Opera partnership. During the afternoon we took the students on stage, where they sung their school song to get a feel for the theater's acoustics. Everyone walked through the light booth, and went down into the newly redone orchestra pit. They saw the wardrobe house, where hair and makeup are done, and traveled through the scene and costume shops, where the building for the 2010 Festival has begun.
It was tough getting this all in within an hour, but I think they got back to school in time for the final bell. Milford Central School joins us today!