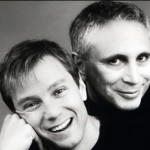 World-renowned composers Mark Adamo and John Corigliano will lead a master class for members of Glimmerglass Opera's Young American Artists Program at the Otesaga Resort Hotel in Cooperstown at 10 a.m. on Monday, August 2. The master class is free and open to the public.
Adamo most recently premiered Four Angels: Concerto for Harp and Orchestra, which was introduced by the National Symphony Orchestra in June 2007. Adamo's first opera, for which he composed both music and libretto, was Little Women. Little Women was first performed by Houston Grand Opera in 1998 and later at Glimmerglass Opera in 2002. It has been nationally telecast on the PBS series Great Performances, released on CD, and heard in more than 60 national and international engagements.
Corigliano's scores, now numbering more than 100, have won him a Pulitzer Prize, a Grawemeyer Award, three GRAMMY Awards and an Academy Award. Corigliano currently serves on the composition faculty at the Juilliard School of Music and holds the position of Distinguished Professor of Music at Lehman College, City University of New York, which has established a scholarship in his name.
Adamo and Corigliano will be working with singers Karin Mushegain, Claire Shackleton and Andrew Stenson, accompanied on piano by Jeanne-Minette Cilliers, the principal coach and accompanist for Glimmerglass Opera's production of Tosca. Mushegain, Shackleton and Stenson are all members of Glimmerglass's 2010 Young American Artists Program, an apprenticeship program for young singers which focuses on education through performance. Young American Artists perform roles in operas, sing in the chorus, receive vocal coachings and sing in recitals and concerts throughout the season. This summer, Mushegain joins the program for her second year and sings the role of Alessandro in Handel's Tolomeo. Shackleton, also returning for her second year, sings Mrs. Splinters in Copland's The Tender Land and Stenson performs Martin in The Tender Land.
This master class is made possible by the Rona Cader Rosenbaum Masterclass Fund.