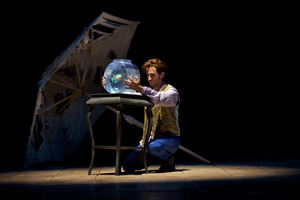 Tonight is the final dress rehearsal for Handel's Tolomeo before the production opens this Sunday. Here is some insight into the piece  from our company dramaturg, Kelley Rourke.
The operas of George Frideric Handel have enjoyed a tremendous resurgence in recent decades. Glimmerglass Opera's intimate theater provides an unparalleled setting for the nuanced artistry required by these great eighteenth-century works. This season, Glimmerglass Opera is proud to present the U.S. professionally staged premiere of Handel's Tolomeo.
"Tolomeo is very much like Giulio Cesare in that it has very little to do with the historical characters," says stage director Chas Rader-Shieber. "I think of it as more of a profound romantic comedy." At the opera's outset, Tolomeo, by rights the joint ruler of Egypt, has been the victim of a conspiracy involving his mother, Cleopatra III, and his brother, Alessandro. The exiled Tolomeo is living secretly in Cyprus, disguised as a shepherd named Osmino. His wife, Seleuce, has been cast out of Egypt as well. Unbeknownst to Tolomeo, she is also in Cyprus, disguised as the shepherdess Delia. Although Tolomeo and Seleuce have been searching tirelessly for each other, they have been unsuccessful. To complicate matters, the morally suspect royals of Cyprus — Princess Elisa and her brother, King Araspe — are in love with Tolomeo/Osmino and Selefuce/Delia, respectively. Despite the machinations of Elisa and Araspe, Tolomeo and Seleuce display unwavering faithfulness, even in the face of uncertainty and death.
"Handel understood perfectly how to combine the bittersweet poignancy of real life with comedy," says Rader-Shieber. "It's a reality-based comedy that I just love. One wants to find a light touch in the heaviest moment, as well as an emotional truth in the lightest. That balancing act… that 'conversation'… you know what I like to call that? Life. It's exactly like life."
Tolomeo opens July 18 at 2:00 p.m. and runs through August 23.