"Mark Diamond was boisterous and entertaining."
-Steve Smith, The New York Times

"Baritone Mark Diamond, as the swaggering Top, is a singer with a bright future. Although the character of Top is hardly a sympathetic one, Mr. Diamond's beautiful voice and striking stage appearance gave the character much redemption."
-Seth Lachterman, Berkshire Review for the Arts
Mark Diamond is a member of Glimmerglass Opera's 2010 Young American Artists Program. He performed this summer as Top in Copland's The Tender Land and can be found attending the opera every night he is not in the show. Though this afternoon was Glimmerglass's last performance of The Tender Land, Mark Diamond is surely an artist to watch for.
A Conversation with Mark Diamond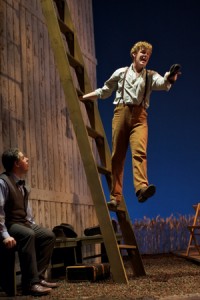 Brittaney Brentzel (PR Intern): Mark, tell me a little about your family.
Mark Diamond: I am one of five siblings and we all grew up in the Augusta area or the CSRA (Central Savannah River Area).  My family goes to West Acres Baptist Church in Evans, GA. My mother works as director of Nursing at Alliance Hospice and my Father works at Savannah River Sight(SRS).
BB: When did you first realize you were interested in music?
MD: I first found an interest in music in high school at Greenbrier High at which point I was involved in community theater in Augusta. I then decided to pursue a degree at Georgia Southern University for Music Education. After a few years studying voice there I changed tracks slightly in order to pursue a career in vocal performance.  I did complete my Music Education degree there in May of 2010.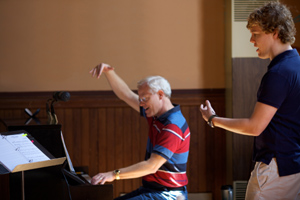 BB: What made you decide to persue the Young American Artists Program at Glimmerglass?
MD: After going to Aspen Music Festival and School last summer I was encouraged to really dive head first into the audition circuit, at which point I auditioned and was offered the role of "Top" in Copland's The Tender Land.
BB: What is your  favorite food?
MD: My favorite type of food is southern home cooking like fried chicken, mashed potatoes, mac 'n cheese, and casserole.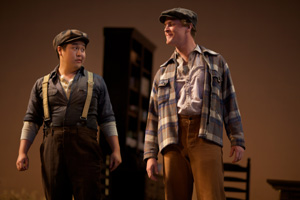 BB: If you were stranded on an island and could only have three posessions with you, what would they be?
MD: If I could have only three possessions they would be a Frisbee, a friend and a piano. A Frisbee because I can entertain myself for hours with it and I played ultimate for years now, a friend because I might go crazy if I didn't have someone to share things with, and a piano because I have always wanted to be better at playing and if I had one I am sure I would.