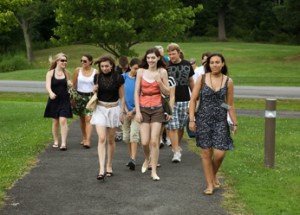 We recently announced the recipients of our 2010 Music Student Rewards Program. Each year, the Music Student Rewards Program awards two tickets to a Festival production to local students who are nominated based on their musical achievements by their high schools.
This year, the program has been expanded to offer this opportunity to students in more than 100 schools in the Central New York region. We also offered the students the opportunity to schedule a free backstage tour.
"These sorts of programs are what help mold students into becoming professional musicians, who can continue to supply the world with beautiful music," said Ryan Chatterton, a K-12 Music Education Teacher at Laurens Central School.
In addition to the company's $10 youth ticket prices and 50-percent discount for students, programs like the Music Student Rewards Program have been developed to encourage older generations to expose younger generations to opera.
Here are the recipients of the 2010 Music Student Rewards Program:
Amsterdam High School Sarah Bellardini
Bainbridge-Guliford High School Annemarie Hurtubise
Binghamton High School Christine Baxter
Canajoharie Central School Bradley White
Canastota High School Emily Bargabos
Charlotte Valley Central School Emily Marsh
Chenango Valley High School Dylan Ruffo
Cherry Valley-Springfield Central School Ketura Lyon
Clinton High School Katie Pierce
Cooperstown High School Liza Rathbun
Delhi Central School Olga Neroni
Dolgeville Central School Emma Gage
Fonda-Fultonville Central School Dillon DeRosa
Frankfort-Schulyer High School Jessica Briggs
Franklin Central School Brittany Beach
Gilbertsville-Mt. Upton Central School Khaya Palada
Gilboa-Conesville Central School Ivy Wilburn
Greene High School Cassandra Armstrong
Hancock Central School Tozhia Possemato
Ilion Junior Senior High School Sean O'Brien
Jefferson Central School Bess Slicer
Johnstown High School Sarah Harris
Laurens Central School Arlis Monzeglio
Middleburgh Central School Marlea Keidong
Mohawk Central School Corey Van Patten
Morris Central School Heather Madero
New York Mills Central School Alexandra Sprague
Northville Central School Jacob Dietrich
Notre Dame Junior Senior High School Jacob A. Perkins
Oneida High School Drew Lusher
Oneonta High School Shane Heidecker
Oriskany Junior Senior High School Kiersten Coe
Otselic Valley Central School Kaitlyne Davis
Owen D Young Central School Mackenzie Mortensen
Proctor High School Chelsea Roberts
Richfield Springs Central School Katelyn Nicoletta
Rome Catholic School Leanna Guerrieri
Ross Corners Christian Academy Griffin Shoemaker
Schenevus Central School Thandi Blake
Sharon Springs Central School Deanna Schuppel
Sidney High School Larissa Pierce
Stockbridge Valley Central School Louisa Bartlett
Unatego Central School Carrie Emerson
Union-Endicott High School David Klodowski
Waterville High School Jesstina Allinger
Windsor Central High School Kaitlan Abdullah
Thanks to Albany's Metroland for the mention!