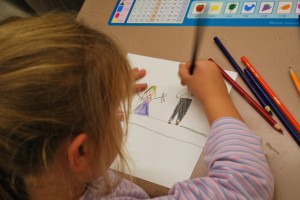 We kicked off OPERA-tion Arts this week with our first visit to an area school.
The Glimmerglass Festival, in cooperation with The Smithy-Pioneer Gallery, is celebrating National Opera Week, October 29 through November 7, with OPERA-tion Arts, a free education initiative that translates what area second grade students learn about opera into visual art. 
Our first stop was with Cooperstown Central School. We offered a multi-media presentation on opera and all it involves. We then asked the students to illustrate their idea of opera on 8×8 pieces of cardstock. We received a range of illustrations, some of which included singers on stage to the plots of original operas. We will visit Cherry Valley-Springfield, Milford and Richfield Springs central schools in the coming week.
The students' designs will hang in the Smithy-Pioneer Gallery on Pioneer Street in Cooperstown from October 29 through November 7 in honor of National Opera Week. To culminate the week, The Smithy and Glimmerglass will host a reception on Friday, November 5, from 6:00 to 8:00 p.m.  2010 Young Artist J'nai Bridges will perform at 7:00 p.m., offering a preview of next season's Carmen.
We invite all our second graders and community members to see their hard work and experience a live vocal performance.
For more information about National Opera Week events around the country, visit www.operaamerica.org/now. Follow the National Opera Week conversation on Twitter with #operaweek.