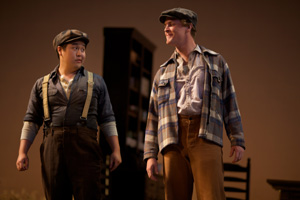 Baritone Mark Diamond, a Glimmerglass Young Artist in 2010, took the top prize in the twenty-third annual Eleanor McCollum Competition for Young Singers at Houston Grand Opera. Guest judge Frederica von Stade joined HGO General Director Anthony Freud and HGO Music Director Patrick Summers in selecting the winners.
This year, HGO's Eleanor McCollum Competition received more than 700 applications from young singers from around the world.  After two rounds of auditions in four cities across the U.S., under the watch of Houston Grand Opera head of Music Staff Francis Greep and Program Director Laura Canning, twenty semi-finalists were flown in for a weekend of further auditions.  The group was then narrowed down to eight finalists including soprano Jessica Stavros, tenor Mark van Arsdale, bass-baritone Noel Bouley and mezzo-soprano Nicole Rodin in addition to award-winners Lauren Snouffer, Mark Diamond, Thomas Florio, and Adam Lau.  
Mark, who gave a memorable performance as Top in Copland's The Tender Land in 2010, is not the first Glimmerglass Young Artist to win this prestigious competition. Top prizes have also gone to Anthony Roth Costanzo (2010) and Caitlin Lynch (2008). We congratulate Glimmerglass alumni for their achievements… and our colleagues in Houston for their excellent taste!