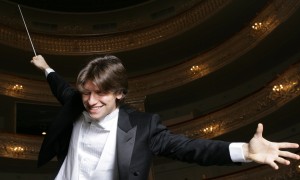 Italian conductor Daniele Rustioni will make his U.S. debut with The Glimmerglass Festival's summer production of Medea. His recent engagements include Aida at Royal Opera House, Covent Garden, L'occasione fa il ladro at La Scala, as well as La bohème and The Elixir of Love with Teatro Regio. He has appeared with the St. Petersburg and Helsinki philharmonics, as well as La Fenice and Welsh National Opera. He was also recently featured in the Italian edition of Vanity Fair.
Rustioni will soon join us in Cooperstown to begin rehearsals for Medea, starring Alexandra Deshorties in the title role.
First, a quick Q&A:
What inspired you to become a conductor?
Conducting is a privilege. Since I was 8, singing in the Boys' Choir at La Scala Theatre, Milan, I discovered the joy of making music together. It gradually became my main aim in life. After my studies in Organ, Piano, Violin, Cello, Band Instrumentation, Choral Conducting, Composition, and experiences in various chamber music ensembles as a pianist, I decided to study Orchestral Conducting. It seemed the right continuation of a long musical journey. Breathing together with many talented musicians: that's what inspired me to became a conductor.
Why are you looking forward to conducting Medea?
It is a masterpiece, and a great challenge for a conductor. The style presents French, German and Italian elements all together. It has a very "exposed" orchestration, with a perfection in the writing which will require a perfect performance technique. The piece's vocal lines are of superb quality. The voice should seduce and suggest colors and nuances to the pit. The characters present a complex psychological profile, always underlined by Cherubini's music. It's a powerful and tremendous tragedy, as well as a delicate and refined musical jewel.
What opera or musical have you conducted that you would most like to revisit and why?
La bohème by Puccini. I adore it. It is full of passion and drama, but there is always something new to add in a performance thanks to its refined "impressionistic" orchestration. There is always a new "caress" and "finesse" to discover – other ways to deliver energy in Puccini's music. I can't wait to conduct it again!
Do you play golf or other sports?
Jogging and swimming.
Is your family involved in the arts as well and how?
My mother sings in a professional choir in Milan. My father is a business man supporting the arts.
Are there any artists you feel particularly inspired by and why?
Gianandrea Noseda and Antonio Pappano. I assisted them in many productions. I admire their musicianship and conducting style. They are volcanic personalities – charismatic figures, with tremendous energy, but always in control. They are hard workers, with great respect of the score and the composer's will. Both are great human beings as well.
What do you listen to for fun?
Mahler Symphonies.
What are your interests or hobbies?
Read books (Russian novels), movies at cinema, travels in wild nature.
What is your favorite meal? Do you cook it yourself or eat out?
Lasagne cooked by my mother.
I cook myself.
Specialties: lasagne (trying to reach mom's level), pasta puttanesca, chocolate cake….experiments! The kitchen is very close to music…
Why are you most looking forward to the 2011 Festival at Glimmerglass?
It will be my American debut, with an operatic masterpiece. I am looking forward to working closely with great artists in a fantastic environment with beautiful nature.