Annie Oakley was a self-made woman who overcame a horrible childhood, made a name for herself in man's world – the world of shooting—and became one of America's greatest cultural icons. Irving Berlin immortalized her story with his musical Annie Get Your Gun (1946). But as with any musical or filmic rendition, the creators took some creative license with some of the details of Annie's life and character.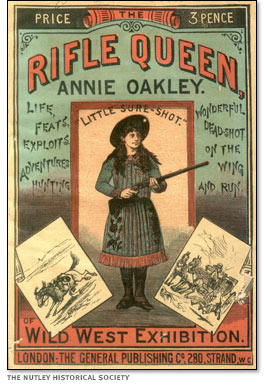 The real Annie Oakley was born Phoebe Ann Mosey to a poor farming family in Greenville, Ohio. After the loss of her father when she was six years old, Annie was sent to a county poor farm to relieve the six-person family of the burden of another mouth to feed. Annie was hired out to a family who abused her and treated her like a slave. She eventually escaped and at 15 returned home where she took up hunting in order to provide for the family. She was able to pay off the family's mortgage by selling game she shot with her father's gun.
That same year came Annie's big break. Frank Butler, a budding star-shooter came to Greenville and bet $100 that he could outshoot anyone in town. The owner of the hotel where Frank was staying set up a match for Frank with the best shot in town: Annie.
After 24 shots the two were head-to-head. On the 25thshot, Butler missed and Annie won the shoot off. That bullet might as well have been one of Cupid's arrows because from that moment he was smitten with 15-year-old Annie.
As Virgina Scharff, author of Home Lands: How women made the West, describes in a documentary of Annie's life aired on the PBS's American Experience, Annie and Frank were a match made in heaven.
It was chemistry. He made himself appear safe to her. He clearly admired her. He sparked and courted her as few of us have ever been sparked or courted and every one of us would like to be by someone, and she was lucky to find him and I think he knew he was lucky to find her.
They married soon after and Annie travelled with Frank on his show with John Graham. Six years later, when Graham fell ill, Annie would have her next big break filling in for him in the show.
Berlin's musical paints Frank as a hot-headed divo with an easily bruised ego, which, in reality, was not at all the case. From the moment he and Annie met, Frank was nothing but supportive of her and her career, even taking the backseat to let her shine. And boy did she shine.
In the same documentary, Scharff elaborates on Frank Butler's support for Annie.
I think Frank Butler understood that she had a kind of star quality that he didn't want to overshadow, and [he] didn't have a problem with that. I think he adored her.
Annie Oakley embodied the tension of the late nineteenth century between a Victorian lady and modern women right's activist. She was a strong woman who felt free enough to pursue her dream and live her life with the man she loved, while maintaining a demure, ladylike demeanor. Annie and Frank enjoyed 44 years of marriage until Annie's death, which was followed by Frank's just 18 days later in 1925. Today, the couple is buried together in Greenville.
If you want to take a step further into the life of this frontierswoman, check out http://www.pbs.org/wgbh/amex/oakley/index.html for a biography, interviews with experts and further readings.