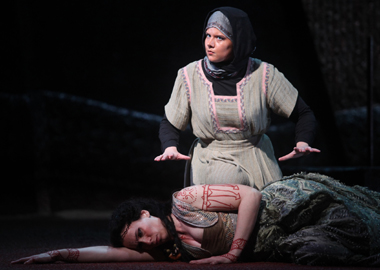 2011 Young Artist Sarah Larsen is an alumna of the program, returning this summer to perform the role of Neris in Glimmerglass's new production of Medea as well as in the July 17 Arias and Asides concert on the mainstage. In Arias and Asides, Larsen joins with fellow Young Artists to present an engaging introduction to opera for music lovers of all ages.
Here is our Quick Q&A with Sarah:
What has been your favorite role so far and why? My favorite role this far has been Elizabeth Proctor in The Crucible. Aside from having a powerful and thought provoking story, the opera contains some of the most gorgeous music I have ever heard. Elizabeth's beautiful lines are supported by a lush and giant orchestration, and the character herself is extremely real and rewarding to portray.
What is your dream role? Queen Elizabeth I in Gloriana by Benjamin Britten 
Do you play golf or other sports? Not at all. I am not coordinated in the least!
Is your family involved in the arts as well and how? My grandfather, grandmother and mother are all singers, and my father plays the trumpet.
Are there any artists you feel particularly inspired by? Joyce DiDonato is one of my favorite singers – I admire her versatility and the amount of thought that goes into producing each and every note that she sings. My favorite painters are Artemisia Gentileschi and Eugene Delacroix, who both were visionaries in their own times, and whose work continues to be eye opening to this day. I am inspired by the actor Danny Kaye for his willingness to look like a fool, and simultaneously retain complete control.
What do you sing or listen to for fun? I LOVE to listen to NPR podcasts and Classic Rock.
What is your favorite meal? Do you cook it yourself or eat out? My favorite meal is anything without raisins in it. I LOVE food, in fact, you might say that it is my greatest passion, aside from singing J I love to cook and I love to eat out.
What are your interests or hobbies? I love to read historical fiction on my newly acquired kindle, and to try new and exciting foods I have never heard of before.
Why are you most looking forward to the 2011 Festival at Glimmerglass? I know its cheesy, but making music with some of the most fantastic musicians and friends that I know. Amazing colleagues are what make this job feel like it isn't a job.
I feel very honored to portray Neris in Medea this summer.  Neris's honest and protective love for Medea is translated beautifully in the music, with one of her highlights being the aria "Solo un pianto." The aria is haunting in its melancholy, and fierce in its maternal instinct.