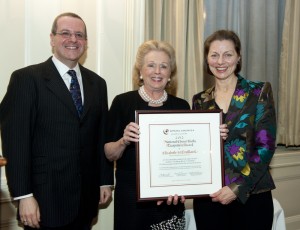 Betty Eveillard, who served as our Board Chair for the past five years, recently received  OPERA America's National Opera Trustee Recognition Award. In its fifth year, this award honors outstanding trustees of U.S. opera companies for exemplary leadership, generosity and audience-building efforts on behalf of their respective opera companies.
The trustees and their remarkable achievements were celebrated at a dinner and reception in New York City on February 24.
Betty was cheered enthusiastically by both the Glimmerglass constituency that attended the dinner and her many trustee colleagues who had the pleasure of working with her on national committees over recent years. She is clearly well-respected not only by her Glimmerglass family, but by leaders in the field as well. Betty took an active role in OPERA America activities in order to bring ideas and new thinking to her role as Board Chair and to Glimmerglass as a whole. She shared the honors with a truly esteemed group: Joseph and Judy Liff-Barker of Nashville Opera, Susan F. Morris of The Santa Fe Opera, William C. Morris of The Metropolitan Opera and the late Dr. George R. White of Opera Theater of Pittsburgh.
Betty was elected to the Glimmerglass Board of Trustees in the fall of 2002 and was quickly elected Treasurer, followed by President, then Chair. While the Glimmerglass bylaws require her to step off the Board for at least this year, she has remained heavily involved with the Board and its committees.
We are deeply proud of Betty and honored to have her and her family's loyal involvement with Glimmerglass.
Congratulations, Betty!
Photo:
Anthony Freud, Chairman of the OPERA America Board of Directors; and Frayda B. Lindemann, Vice Chairman of the OPERA America Board of Directors and Chairman of the National Opera Trustee Recognition Program; with Betty Eveillard. Photo: Jon Simon.