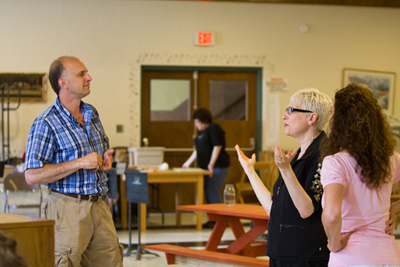 Festival employees, interns, and Guild members received a special behind-the-scenes look at The Music Man on Monday.  A production seminar with the musical's creative team included a panel discussion with the director, conductor, and designers behind this summer's production.  Most fans of musical theater have some connection to The Music Man—when director Marcia Milgrom Dodge asked the audience on Monday if they had seen Willson's musical before, hands shot up throughout the theater.  Many had also appeared in the musical in high school or college.
Even for these seasoned veterans, the Glimmerglass production should hold some surprises: the creative team has changed the setting from 1912 to 1946.  The Music Man's charm for many of us lies in its portrayal of a small-town American past, and by moving the musical to the 1940s, Dodge hopes to strengthen this connection.  "I want to make the story more available to the audience," she said on Monday.  "A post-World War II setting allows us to access a closer nostalgia."
Much of this nostalgia will come from the stylistic touches of costume designer Leon Wiebers.  The barbershop quartet, for example, will not wear the traditional red-and-white stripes.  Instead, their costumes will reference iconic styles of the 1940s.
For conductor John DeMain, witnessing the barbershop quartet's musical development has been a rewarding aspect of rehearsals.  A barbershop coach has been working extensively with the four Young Artists—Eric Bowden, Adam Bielamowicz, John David Boehr, and Derrell Acon—all of whom were initially new to this unique American style but have since wholly embraced it.
According to Dodge, the quartet's choreography is also really starting to come together.  She came into rehearsals with a specific plan, but has welcomed collaboration.  "I asked the quartet: how do you rehearse?" she said.   "After watching their natural movements, the choreography really began to take shape."
The Music Man opens on Saturday, July 14 at 8:00 p.m.  In the meantime, hear more from Marcia Milgrom Dodge and Leon Wiebers in this introduction video.