We arrived earlier this week and are still adjusting to the time change and everything that goes along with travelling this far. However, yesterday was a great first day of rehearsal!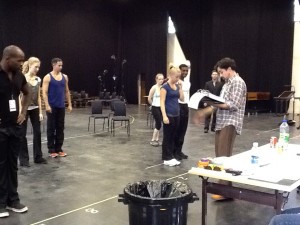 Before yesterday's rehearsal Managing Director Linda Jackson; Company Manager Richard Blanton; Steven Karr, our rehearsal pianist and coach; Cody and Darren, our Assistant Stage Managers; Josh Walden who is Associate Director and Choreographer and portrays Marcellus; and myself took a brief tour of the opera house and met part of the on-staff production team. The facilities are just amazing. I have never seen such an ornate and beautiful orchestra shell in my life ( gold leaf!) and just state of the art everything. And everyone is just incredibly gracious and excited we are here.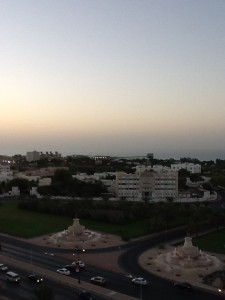 This is on top of the absolute beauty that is the natural landscape. It is hard to describe how beautiful it is, but I think clean, crisp and magical are words to start with. All of the buildings are white or natural stone which is this stunning contrast to the royal blue of the ocean and slightly lighter blue of the sky. It is as if the meeting of these two vast blue bodies are interspersed by white structures, bright green grass and towering date palms. My favorite time of day is early morning or dusk when the colors seem to blend together, where you cannot distinguish where sky ends and ocean stops, and the reflection of the sun off the buildings makes the structures sparkle in a radiant peachy sun glow. It is quite stunning here.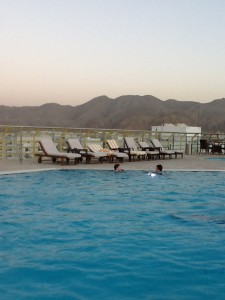 We have two rehearsal blocks today 10:00 a.m. to 1:00 p.m. and 3:00 p.m. to 6:00 p.m. and then the rest of the day off. Traffic is heavy this morning as Thursday is the start of the Omanis' weekend. The children are in the pool any chance they can get, and the adults seem to be planning to follow suit after today's rehearsal. I think people plan on spending the evening poolside or possibly venturing over to the Intercontinental Hotel's Trader Vick's for an evening out. In any case, it's so easy to just relax and take in the beauty of our surroundings. We are so lucky to be doing what we do in such a magical place. Regardless, it promises to be an exciting day.
I hope you enjoy the photos.
More to come soon,
Sara Widzer
Associate Director
Oman Tour