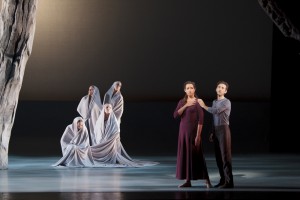 Giovanni Battista Pergolesi never heard his masterpiece. It lived in his head, ideas germinating into complex dissonances, stories in rhythm, passages of coiled passion released into intense, personal reflection. At 26 years old, the composer died of tuberculosis, having just barely completed his final commission: a twelve-movement setting of the Stabat Mater, a thirteenth-century Catholic hymn that dramatizes and ponders the Virgin Mary as she sees her son crucified, buried and resurrected.
Pergolesi bequeathed to the world a mystical work. Its text and its commission by a commune of Neapolitan monks testify to Stabat Mater's obvious religious significance, but surging beneath are multitudes of mysteries both religious and universal.
One of the most confounding questions surrounding the work asks: "Who is supposed to sing this music?" Pergolesi's score requires one soprano voice and one alto voice, but in Pergolesi's time these terms merely indicated the desired octave, range and timbre. The sex of the singer was not implied as it is today and, more often than not, women were forbidden from singing (and speaking) in church. Both soprano and alto parts could be and were frequently sung by castrati, grown men castrated before puberty to prevent their voices from "breaking." The sound of the castrati was prized, especially in ecclesiastical settings, for its clarity, strength and expressive virtuosity. Far from being ostracized as effeminate, the castrati were exalted as divine and pure because of their anatomical sacrifice.
"There were so many castrati singing liturgical music in the eighteenth century, Pergolesi must have expected that it would be sung by a castrato," conjectures countertenor Anthony Roth Costanzo, who performs the alto part in Stabat Mater this summer at The Glimmerglass Festival. At just thirty one, Mr. Costanzo is one of the leading countertenors of his day with a growing repertoire that stretches from the music written for the castrati stars of the Baroque period to the contemporary music written for his unique voice. As a countertenor, Mr. Costanzo's voice lies in the octave that we normally associate with female singers, but unlike his eighteenth-century predecessors, he achieves this thrilling sound through years of technical training – not surgery!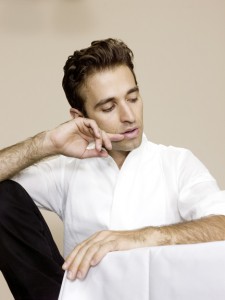 "Unlike many countertenors, I did not begin singing as a tenor or a baritone; I have always sung in the treble clef," says Mr. Costanzo. "The technique does not differ significantly from that of any other voice type. There are little differences, of course, but it is all the same good technique and is most similar to that of a good mezzo-soprano."
While the technique might resemble a mezzo-soprano's, Mr. Costanzo's sound is distinctly his own. A core of earthy virility is surrounded by an ethereal softness. When combined in duet with the strong femininity of Nadine Sierra, his soprano costar in Stabat Mater, the effect is astonishing.
The sound of a countertenor – full-bodied, earthy but surreal, high but grounded – is not as foreign or anomalous as we think it is. "I think of Michael Jackson and David Bowie, men who are symbols of virility, worshipped by both men and women, who sing extremely high," says Mr. Costanzo. These voices transcend the gendered body, much as the castrati did and as countertenors do. They sing with voices freed from concrete, limiting associations of gender and sex.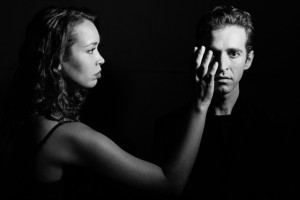 "Castrati were revered then as we worship rock stars and celebrities today," says Mr. Costanzo, "however, there was also something pure and otherworldly about them. Having these otherworldly voices in otherworldly harmonies, as in Pergolesi's Stabat Mater, frees us from our everyday lives and takes us to a pure place. It may not be religious for everyone, but it can still be a journey inward."