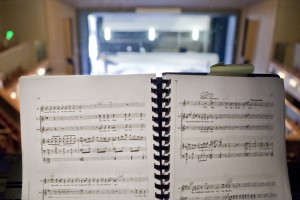 I am often mistaken for a computer. During nearly every performance at the Glimmerglass Festival, I sit high above the theater in the lighting booth, my eyes zooming between computer screen, music score, conductor's hands and singers' mouths, giving the illusion of computer perfection. I am the titles intern, and I am real! I promise…
At Glimmerglass, whenever there is singing on stage, there are titles, beginning from the first tech rehearsal to the final dress rehearsal. We have approximately eight rehearsals to get it so right that it will never be wrong. The titles score, my holy tome full of cues and notes, is constantly changing until the final dress rehearsal, making pencils with good erasers a hot commodity in the booth. The placement of the cue number in the score tells me exactly where to press for the next cue. My cue begins as a specific beat or musical event in the score, but as rehearsals progress, I make notes to anticipate the conductor's downbeat, to wait for a gesture made by the singers or to look for when a singer begins to breathe. It becomes a musical performance, a concerto written for index finger and keyboard. This detailed work takes a lot concentration, but it pays off: the titles should meld seamlessly into the stage picture.
The text is in constant revision. Literal translations almost never work as titles. They are often too wordy or too poetically descriptive to be absorbed without spending the entire performance gazing upon at the titles screen, guaranteeing a visit to your chiropractor for a sore neck. The text has to be crafted in a way that is easy to read, true to the intent of the librettist and supportive of the production as a whole. The director may also request changes that are specific to his or her production. For example, last year's production of Aida  was set in a non-specific country in the Middle East ravaged by warfare so all references to Egypt and Ethiopia were removed from the titles. The specifics of location became less important, but the tension between warring factions, which is the focus of the opera, drove the production.
Many opera-goers never think about who is operating the titles or the work that goes into translating, writing, editing and designing them. And while I'm certainly not allergic to the limelight, if you don't notice me, then I am doing my job.
Running titles requires a lot more energy and concentration than you'd ever expect, but it is tremendously rewarding. There is no better way to uncover how an opera functions, musically and dramatically, than to see it, score in hand, over two dozen times in ten weeks. Far from becoming boring or predictable, each rehearsal or performance reveals another layer of meaning or relevance to me. It's my daily reminder of the vitality of opera.