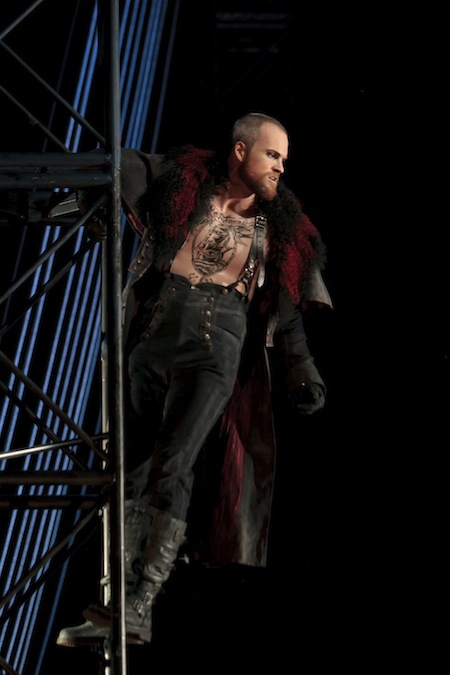 Though the Dutchman of Wagner's opera is doomed to roam the seas, Ryan McKinny, our guest artist performing in the role, has made a home for himself here at The Glimmerglass Festival, where he has made his company debut this summer.
This is also his debut in the role of The Flying Dutchman's cursed sailor. Back home in Houston, Texas, he performed as Kurwenal in a Houston Grand Opera production of Tristan und Isolde, and at Palm Beach Opera he sang the role of Jochanaan in Salome. Abroad, he has performed as Amfortas in Parsifal at Deutsche Oper am Rhein, as Escamillo in Carmen at Deutsche Oper Berlin and as Nathanael at Theater Basel in the world premeire of Der Sandmann.
After Glimmerglass, we will see him in the title role of Rigoletto at Houston Grand Opera and as Theseus in A Midsummer Night's Dream at the Metropolitan Opera.
Get to know Ryan better with this Quick Q&A:
Q: What, for you, is the pivotal moment(s) in the Dutchman's journey?
A: When the Dutchman sees Senta for the first time, he comes face to face with his potential salvation in a way that he never has before.
Q: What do you like most about the character of the Dutchman?
A: The Dutchman is extremely complex. He is angry and broken from years of searching for an end to his curse, but he still has hope, and he still has room in his heart for love.
Q: Are there any artists you feel particularly inspired by?
A: I am inspired by so many artists across many genres. As far as opera is concerned, Hans Hotter and George London hold a special place for me. Their recordings helped me fall in love with the music of Richard Wagner.
 Q: What do you do for fun in your spare time?
A: I enjoy playing golf (though I play it poorly). I love to play with my two children. Currently our favorite game is hopscotch. I also enjoy cooking, sitting on our porch swing with my wife, Tonya, drawing, and reading.
Q: Who have you been told is your celebrity doppelganger?
A: I've heard a few of these over the years, none of which I agree with. People have mentioned Patrick Swayze, Leonardo DiCaprio and Neil Patrick Harris all multiple times.
Q: Name something on your bucket list you are still working toward.
A:  I'd like to go to a World Series game before I leave this world.