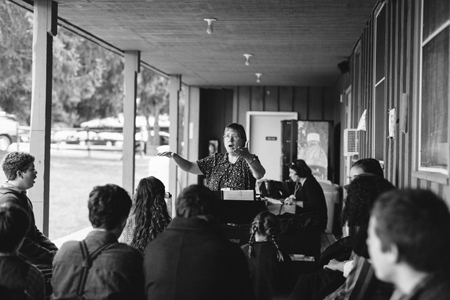 Children's Chorus Master Tracy Allen is as much a part of Glimmerglass' past as she is a driving force of its future. Tracy's relationship with the Festival began in 1986, a year before the opening of the Alice Busch Opera Theater when the company was still performing in the Cooperstown High School. That year she sang in the local chorus in the Glimmerglass' first production of William Schuman's The Mighty Casey. In 1988, Tracy auditioned for and was accepted into the first class of Glimmerglass Young Artists, performing the role of Emmy in the Young Artist performance of Benjamin Britten's Albert Herring. A photograph from that production adorns the entrance to the Woodcock Administration Building, with Tracy's face front-and-center.
Since then, Tracy has performed in the local chorus in nearly every production, balancing her busy career as a music teacher in Richfield Springs Public Schools with a summer of performances at the Alice Busch Opera Theater. "When I entered college, I knew that I wanted to perform and teach," says Tracy. "And now, I get to do both!"
Tracy debuted in her current role as Children's Chorus Master in 1996 with Lizzie Borden. "The administration knew that, as a school teacher, I was a resource to contact other area music teachers," says Tracy. "So they asked my help in finding and auditioning children for the chorus."
It wasn't until Tosca in 2010 that Tracy was once again called on to assemble a children's choir, but with the appointment of Francesca Zambello as Artistic & General Director in 2011, which a vision to include children on stage annually, Tracy's position has been solidified for the past three summers.
"My first experience with opera was in the offstage chorus at Syracuse Opera when I was in high school, and I knew then that I wanted to be a singer and a teacher," Tracy says. "It brings me great joy to be able to give these children the same opportunity that I had."
Preparing the Children's Chorus for the little match girl passion was Tracy's most challenging project for Glimmerglass, but it was also one of the most rewarding. "They are all a really great and thoughtful group of children. Thoughtful in that they are kind and respectful to each other and thoughtful in the way that they think intellectually about the music and the story," Tracy boasts. "One of the best parts for me is to see them be great kids, friends and colleagues."