Christine Goerke has become one of the most important and influential singers in opera today.  Her career began as a Glimmerglass Young Artist (1993), and she returned to our festival for the title role in Iphigènie en Tauride in 1997, directed by Francesca Zambello making her company debut. Christine has performed in the major opera houses of the world and has sung much of the great soprano repertoire to great acclaim. Christine returns to Glimmerglass in 2014 in the title role of Ariadne in Naxos and as the Festival's fourth Artist in Residence. In a recent interview she shared some insights into performing, the training of young singers, and her own experience as a Glimmerglass Young Artist in the early 90s.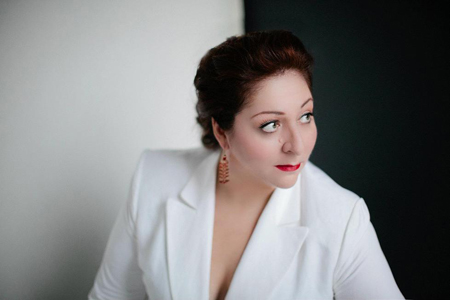 Your first time in the Glimmerglass Young Artist Program was in 1993. How did that summer help you evolve as a singer?
The Glimmerglass Festival's Young Artist Program was the very first young artist program that I was ever a part of. It shaped me in more ways than I can say. It was my first time being around a true working company, seeing the goings on day in and day out, watching the principal singers struggling in rehearsals and triumphing on the stage, realizing that this kind of work — trying new things that may or may not work — was an integral part of being an artist. I had access to coaches that worked with all the great singers. I spent a summer surrounded by other young singers who had all the same questions I did and were looking for all the same answers. We were able to commiserate when things weren't going exactly as we wanted, and rejoice when we figured them out. We shared knowledge, and most of all, we were supported with love and encouraged every step of the way. It was a remarkable summer for me. I honestly have never forgotten it. I continue to use the knowledge that I gained that summer today.
Tell us more about how the program helps young singers.
Young Artists have the opportunity to be on stage with the folks who are out there doing it!  Working with the people who know all the challenges, pitfalls, etc. Having access to these people — and you really do as a member of the Young Artist Program — is an invaluable asset as an artist. It used to be that many young artist programs only included singers. When I was there in the early '90s, that was the case — but I think it is wonderful that the program now encompasses coaches and directors as well. We, as singers, can't possibly do our job without them, and no opera or piece of musical theater would get near a stage without them either.
As a former Glimmerglass Young Artist, are you excited to take on the role of principal mentor for them as you become our 2014 Artist in Residence?
I am so excited. I am not in one place long enough to be teaching at this point in my career, but I absolutely adore working with young singers. I'm not sure there is anything more wonderful than seeing the, "wait- that's IT?!" face when they realize what they can do. I've made a lot of those faces myself over the year. It's truly an honor to have been asked. I have such a special place in my heart for Glimmerglass, and the idea that I might give back even a little of what was given to me is incredible.
How does a mentor with experience such as yours help developing singers?
I know the impact working with singers who were out there in the world actually "doing it" had on me when I was a Young Artist. When we are in school, we learn all of the things that we are supposed to about diction, music literature, music history, languages, vocalism — and these are things that we never stop working on. But speaking to someone who is out there working with the conductors and directors, who knows the impact of travel on the voice, about planning which roles to sing one after the other, about when to take chances and when not to take chances, about management, about the business at this very moment (because they change!) …  those are things that you cannot learn in school. Having a safe place like Glimmerglass' Young Artist Program to ask the questions and get real answers — that's truly a gift to a young singer. It was to me.
You will be performing the title role in the company's 2014 production of Strauss' Ariadne in Naxos.  What aspects of this role do you enjoy and which do you find the most challenging?
Oh, I just love Ariadne! I rarely get to do anything funny these days (as apparently loud voice = sturm und drang for the most part). She is a riot. When you first see this character, it is in the visage of the "Prima Donna."  This is wildly fun, because she is behaving as a prima donna, and not in the good sense! It's always fun to put your ear to the ground and listen for stories about which soprano has done which outrageous thing recently and try to work that into the characterization. When we see her in the second half, she has donned her costume and become "Ariadne." This doesn't keep flashes of the prima donna from coming through. It is always so much fun to play this character, and rarely do I manage to get off stage after a performance without having to have hidden laughter from the audience at one point or another. Strauss' score is incredible, but where Elektra is scored for tens of players, this has a far smaller orchestra, which makes it very intimate in its way. It's perfect for the Alice Busch Theater for that reason.
As someone who regularly performs in the major opera houses of the world, what is it about The Glimmerglass Festival that makes you want to return?
It just feels like home. For me, it always will. There are some places that you want to work for prestige, to further your career. There are places that you go because there are bills to pay, and you know the experience may or may not be very fulfilling artistically. Then there are the places that you want to go because you know that they will fill your soul. Those are the places that create the experiences that we hold on to as artists. They sustain us, and help us to remember why we started doing this in the first place.
This excerpt is from Fanfare, The Glimmerglass Festival Patron Magazine. Fanfare is published twice annually, in the Fall and Spring, as a benefit for National Council and Camerata members and members of the Glimmerglass Opera Guild.