Kelley Rourke joins composer Ben Moore to write a brand-new opera for the Glimmerglass Youth Chorus. Below is an excerpt of an article that appeared in The Glimmerglass Festival's newsletter, Fanfare, which is published twice annually as a benefit for National Council members, Camerata members and members of the Glimmerglass Festival Guild.

As Ben and I immersed ourselves in different versions of the story, we knew that our Robin would be a character of courage and conscience. But what were his concerns, exactly? Taxing, tithing, clerics, the Crusades—none of these seemed like the right "hook" for today's young audiences. What actions of a greedy and corrupt Sheriff of Nottingham might directly threaten Robin and friends? The overarching theme of the 2017 Glimmerglass Festival provided our answer: our rag-tag rebels fear for their home, that is, for Sherwood Forest itself, which the Sheriff sees only as a source of personal enrichment.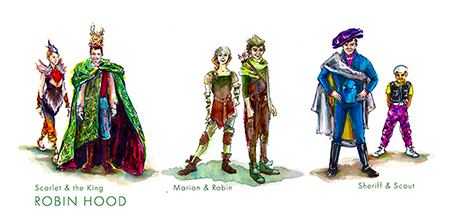 "It's not fair!" A child's first experiences of injustice—from an unfair accusation to an unequal distribution of cookies—are likely to draw sharp howls of protest. Part of growing up is learning that howling isn't often helpful and life isn't always fair. But that doesn't mean that any of us are powerless to confront injustice.
The journey of creating an opera is one of intense collaboration. I feel very fortunate to have the opportunity to create a second piece with composer Ben Moore. Our shared experience of working together on Odyssey (2015) allows us to challenge each other more, to continually refine our work in service of the story.
Ben and I are wrapping up our "final" version of the Robin Hood score for distribution. But with a world premiere, nothing is final until the opening performance. During the rehearsal process, each member of the cast and creative team will bring his or her own experiences into the room as we shape the story together.
Ben and I look forward to working with the talented young performers of the Glimmerglass Youth Chorus to explore this important story together.
For tickets to Robin Hood, click here.