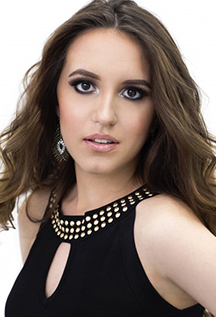 Soprano Emily Pogorelc returns to The Glimmerglass Festival this summer to sing the role of Romilda in our production of Handel's Xerxes. Last summer Emily joined us in her Glimmerglass debut as Johanna in Sweeney Todd and Berenice in Lost Luggage.  She joins us after wrapping up a season at Curtis Opera Theatre. Emily received her Bachelor of Fine Arts from the Curtis Institute of Music.
Learn a little more about Emily with our quick Q&A:

Why Opera?
I love opera because it has the ability to touch you in a split second. The creation of opera takes such a long time (composing, coaching, rehearsing, teching) but in a brief moment, you have the ability to inspire or even touch in a deep emotional way.
What has been your favorite role so far and why?
I stepped into the role of Chan Parker in the New York premiere of Charlie Parker's YARDBIRD at the Apollo Theatre. That experience changed my life in the best way possible. It really made me think about the mental toll opera takes on a person and processing both positive and negative things in a calm manner. Besides that, it was an incredible experience to be a part of such a small ensemble with so many incredible colleagues that I respected. I am so grateful for those two weeks of my life.
Is your family involved in the arts as well and how?
My sister actually assistant directed the operas at Mannes with Joe (Colaneri) at the podium this year! She's just beginning to learn about directing operas and it has been such an incredible experience to expose her to great opera. We attended the Richard Tucker gala together and were able to talk about the incredible artistry we witnessed. It also is fantastic to be able to hear about a different perspective on opera from someone who is so close to me. I'm keeping my fingers crossed that she will be at Glimmerglass one day!

What artists inspire you?
I am very inspired wherever I go by my colleagues. I am very lucky to be at the Curtis Institute, working closely with 24 other singers. The year I came in, only one other person was accepted to the undergraduate program- a mezzo my age from St. Petersburg, Russia. She has become one of my best friends and one of my greatest artistic inspirations. We feed off of each other on stage, and having a connection with someone makes your art better. I seek always to connect with those around me onstage.
What are your other interests or hobbies?
19th Century Art! I love visiting art museums (favorite one is the Barnes Foundation in Philly so far!) and really taking in the size, the brush strokes and the mood the impressionists were trying to convey. Other than that, I enjoy reading. I love watching TV shows. I also love spending time with close friends.
If you hadn't chosen this career path, you would have:
I likely would have been in arts administration or arts education. I've been working part time at the Curtis Institute for the student life department. In the little free time I have, I create weekly newsletters with helpful information, amazing articles from faculty/members of Philadelphia Orchestra, and student profiles. I've learned a lot about marketing to a younger audience so doing something like that suits me very well.
Any hidden talents?
Very close to my name, I can "pogostick" very well– even in heels!
One thing you can't live without?
Chocolate! My birthday is in the summer (July 10) and I always look forward to a delicious chocolate ice cream cake. I always try to have a little chocolate every day, just to treat myself!
Why are you most looking forward to the 2017 Festival at Glimmerglass?
I'm most looking forward to seeing all the familiar faces again and revisiting a lot of great places. I cannot wait to spend more time out on the lake.  It's so much fun to meet all the incredible patrons who come to the Festival, so I'm hoping to continue the fun!
I am so excited to sing Romilda in Xerxes this season! This will be my second Handel role and there is something so special about singing Handel. The singing is so free, easy and healthy. Another thing I love about Handel is the flexibility in the story telling. You can create something that completely works with the text but is completely unique. I look forward to seeing what the Glimmerglass Xerxes will be!