The company's first Chili & Cornbread Cook-off was held yesterday to support the Springfield Fire Department. Competition was tough with 16 chili and 10 cornbread entires. Attendees voted for their favorite entries with loose change and bills. The evening raised $508.65!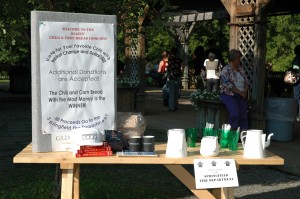 THE WINNERS…
Best Chili– Abby Rodd $39.16 (production)
Best Cornbread– Andi Soerhen $23.84 (wardrobe)
Coin Winner– Brittany Lesavoy $10.71 (administration)
Best Presentation (chili)– Rosemary Sibbern (guild)
Best Presentation (cornbread)– Lizzie Mott (concessions)
Best Server (while consuming the competition)– Jeremiah Waters (maintenance)
Bean-y-est Chili– June Dzialo (administration)
Meat-y-est Chili– Robin Seletsky (orchestra)
Best use of Special Ingredient (chili)– Kathe Hannauer (orchestra)
Best use of Special Ingredient (cornbread)– Shannon Smith (costumes)
Most likely to get tasted twice– Lisa Parietti (concessions)
Blazin'-est Chili (with four hañeros)– Jenn Schroeder (administration)
House Manager Kerryanne Kennedy's daughter and chili/cornbread advocate, Mallory.