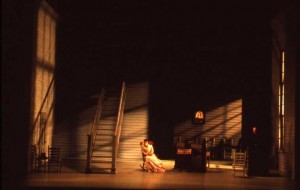 On Sunday, June 6, American composer Jack Beeson died of congestive heart failure at the age of 88. Beeson was known for composing several well-known operas, including Jonah, The Sweet Bye and Bye, Captain Jinks and The Horse Marines and Lizzie Borden, among others.
Lizzie Borden was commissioned by the Ford Foundation for New York City Opera. New York City Opera premiered Lizzie Borden in 1965, and it was produced for television by the National Educational Television Network in 1967 using the original cast. Lizzie Borden tells the familiar story with less emphasis on the ax murders than on "the psychological climate that made them inevitable," according to critic Robert Sherman. In American Opera Librettos, Andrew H. Drummond writes, "This opera has an obvious dramatic effectiveness in which a clear and direct development with tightly drawn characterization leads to a powerful climax."
Lizzie Borden was performed by Glimmerglass Opera during the 1996 Festival. The London Times's Rodney Milnes gave a rave review stating that during the performance, "every minute grips." Milnes added, "Stewart Robertson's conducting, Rhoda Levine's production, and the décor by John Conklin and Constance Hoffman were simply faultless."
A memorial concert in Beeson's honor is being planned for fall 2010.