Jamilyn Manning-White is a member of Glimmerglass Opera's 2010 Young American Artists Program, returning from her Glimmerglass debut last year as Clorinda in La Cenerentola. This season, she has performed the role of Mrs. Jenks and covered the role of Laurie in Copland's The Tender Land, performed with the chorus in Puccini's Tosca and sang in Steven Blier's concert, the Killer B's: American Song from Amy Beech to the Beach Boys.
Jamilyn was raised in Smithfield, Utah. She studied at Utah State University, where she received her Bachelor of Music in Vocal Performance. She went on to receive a Master of Music in Opera Theater Performance from Arizona State University. At the Arizona State Lyric Opera in Phoenix, Jamilyn performed the role of Belinda in Dido and Aeneas as well as the role of Najade in Ariadne auf Naxos.
Jamilyn will return to Arizona in the fall to perform the role of Frasquita in the Arizona Opera's production of Carmen as well as Edith in the production of The Pirates of Penzance. She will also be covering the role of Mabel in The Pirates of Penzance and Konstanse in the company's production of The Abduction from the Seraglio.
A Conversation with Jamilyn Manning-White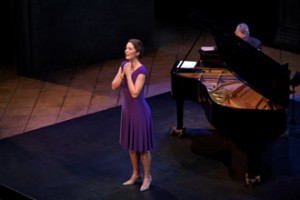 Brittaney Brentzel (PR Intern): Jamilyn, you're originally from Utah. Does your family still live there?
Jamilyn: My family is currently spread out throughout the United States. I have a brother studying at Brown University in Providence, Rhode Island, another brother in graduate school at Western Kentucky University in Bowling Green, Kentucky, who is also serving in the military and a sister in Provo, Utah. My youngest sister and my parents are in Lima, Peru.  My father, Roger, has worked in the LDS Church Educational System all his professional life, most recently teaching at the LDS Institute of Religion in Logan, Utah.  My parents are currently serving as Mission Presidents for the Church of Jesus Christ of Latter-day Saints in the Lima, Peru South Mission. My mother, Lyn, has worked at home teaching piano lessons while raising her family, and she is currently finishing her bachelor's at Utah State University to be an elementary teacher. 
BB: Were you active in your community in Utah?
Jamilyn: I have always been very active in any community I have lived in.  I lived in Fruit Heights, Utah, for a few years growing up and participated in several community service projects to beautify neighborhoods. I raised funds for Food Drives and was a member of the National Junior Honor Society.  In Smithfield, Utah, I served on the Smithfield Youth City Council, participated in the Cache Valley Community Theatre, did community service projects and was a Sky View High School Cheerleader.  From 2001-2002, I served as Miss Cache Valley, a part of the Miss America Pageant.  I attended most elementary and middle schools in Cache Valley to promote youth literacy. I was featured on several local radio broadcasts and local television and performed the song "Tell me a Story," a song composed specifically for this school tour and other youth literacy outreach by Jay Richards, a local composer in Logan, Utah.  In the course of my year reign as Miss Cache Valley, I received the Spirit of the Valley Service Award.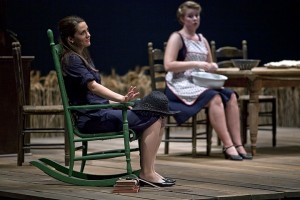 BB: When did you first realize you were interested in music and performing arts?
Jamilyn: Growing up in a very musical family, I've always been surrounded by music and the performing arts.  I remember listening to Chopin, Debussy, Gershwin, Beethoven, Mozart, Greig, etc. and learned all the piano classics from listening to my mother play at home.  My parents took me to see ballets and musicals in Salt Lake City and at the Cache Valley Civic Ballet and I absorbed every minute of it.  My Grandma Bennion (mother's side) was a prominent strings teacher in Cache Valley and Northern Utah, and I remember visiting on Sunday evenings and she would play for us.  I remember telling my Grandma, "One day, I will play the violin and I'll be good at it!"  At an early age, I've always been determined to work hard to pursue my dreams.  I later did study violin with her for several years until deciding to pursue singing  full-time.
I grew up dancing at the age of 5 and started taking piano lessons from my mother at the same age.  My Grandma Manning (father's side) was an opera singer and I'll never forget when she gave me my first voice lesson at the age of 8.  I still have her hand-written vocal exercises she wrote out for me and I'll always cherish that small piece of paper!  I continued studying Tap, and Jazz, but Ballet was always my favorite.  I loved how challenging the technique was and when I did it right, it was so satisfying and so beautiful to watch. 
At the age of 12, I started taking voice lessons and violin lessons from my Grandma Bennion.  I think it wasn't until I was in high school that I realized I wanted to pursue singing.  I received a full-ride scholarship my senior year in high school to study at Utah State University and I've been singing ever since.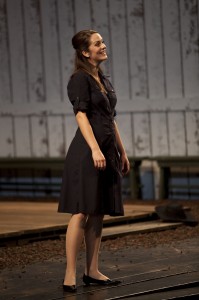 BB: What made you pursue the YAAP at Glimmerglass Opera?
Jamilyn: Back in 2008, I did a lot of research of several Young Artist programs. Glimmerglass was one of the top of my list.  The 2009 season offered several roles that I could sing, so I applied.  I sang for Glimmerglass in Chicago and had a great audition.  When Don Marrazzo, formerly Glimmerglass's Director of Casting and Artistic Operations, called me in November to offer my singing contract I was actually about to compete in a competition in Palm Springs, California.  It was all I could do to not burst with excitement!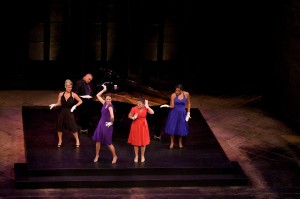 BB: As an opera singer you are frequently traveling. What three possessions do you make sure to have with you while on the road?
Jamilyn: I always keep a picture of me and my husband on our wedding day wherever I travel.  I always keep my music on my person with my roll-up piano keyboard that fits in my music bag.   Lastly, I always bring my vitamins, sinus rinse and medicine with me, just in case I start feeling under the weather.