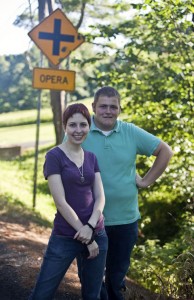 All Glimmerglass employees begin their experience here with the Housing and Transportation department (H&T). Here, they get directions to their housing, pick up keys, and fill out arrival paperwork. And, if they have their own car or a surefire carpool, maybe that's the last time they think about H&T until it's time for them to depart. If they don't have their own transportation, however, it becomes the job of the Housing and Transportation department – specifically the H&T interns – to get them to and from their daily work hours, rehearsals and performances.
Because none of us H&T interns enjoy getting up earlier than necessary, work for the day actually begins the night before, when we lay out the schedule for morning rides and assign runs. For the early part of the summer, morning runs always take two people to get everyone in at the start of the production day (9:00 a.m.) and then in a second wave to first rehearsals (10:00 a.m.). Coordination can be difficult, because artists and staff are housed all over the surrounding area, and rehearsal venues are similarly scattered.  More than once I have ended up driving all the way around Otsego Lake multiple times over the course of a day.  Evening runs are similar, and often stretch late into the night.
In between these rush times and the odd run in the middle of the day, we might deal with organizing arrival and departure paperwork, doing walkthroughs on leased properties, and deal with maintenance on our fleet of company vehicles. Then again, we might find ourselves on a run to the Albany airport or train station, which oftentimes turn into an adventure. We never know when we might find ourselves picking up two or three more people than expected and have to figure out how to accommodate everyone's luggage.   Plane delays and cancellations are also a problem, often necessitating more than one trip in a day.  Or we could find ourselves in a car which has no air conditioning or E-Z pass, and hand crank windows (which are always fun to take through the toll booths).  While we deal with all of this, it is important to remember that we are usually the first official Glimmerglass employees people meet and that therefore keeping a pleasant manner is imperative.
Sure, our hours can be odd.  Often we're the first ones in or the last ones out and sometimes we have to make an airport run on our day off. But while doing so, we get the opportunity to interact with people working in almost all areas of Glimmerglass – from directors to singers to fellow interns.  We drive them when they're coming out of a great performance and when they're exhausted from a 10-hour day, and the small talk can range from the wig-making process to how to keep our allergies from incapacitating us to the latest summer movies.  And, at the end of the day, as I lock the administration building up behind me and walk across the darkened campus – praying that I don't drop my flashlight and become unable to find my car in the parking lot across the street – I find that it's those little moments that make the uncertain hours and long driving times worthwhile.