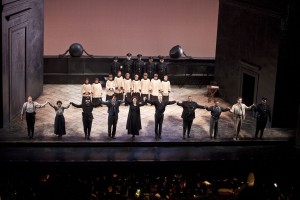 The 2010 Festival came to a close August 24 with a final production of Puccini's Tosca. The four productions met with much acclaim – both from audience members and members of the press.
This summer, we sold more tickets than in 2009, with an increase of 21.34%.
Here is what some of the media had to say:
"This summer's season at Glimmerglass was as inventive as usual, four operas across many eras."
-Robert Levine, Classics Today
"Musically, Glimmerglass' quality continues to keep it in the front ranks of American opera companies."
-Joan Vadeboncoeur, Syracuse Post Standard
"There is rarely any question about the quality of singing, which can range from excellent to breathtaking. But when it comes to picking what operas we are going to see and how they will be interpreted, you can be sure that Glimmerglass will never deliver the same old thing. That's why Glimmerglass draws audiences from the greatest distances. And no other company so stirs up an audience's artistic juices and so fires debate."
-James MacKillop, Syracuse New Times
"Ned Canty's intelligent direction, along with Matthew Pachtman's attractive early-20th-century costumes and Mr. Harris's sensitive lighting, combined for a lean yet imaginative production. And the orchestra, conducted by Mr. Angus, did outstanding work."
-Steve Smith on Tosca, The New York Times
"Like other centers of summertime opera in the United States, Glimmerglass Opera prides itself on nurturing the talents of young singers—so much so that it cast its first-ever production of Copland's The Tender Land exclusively with members of its Young American Artists Program. The decision paid off handsomely…."
-George Loomis, The Classical Review
"Everything about the production glittered."
-Geraldine Freedman on The Marriage of Figaro, Schenectady Daily Gazette
"…the company's opening (and completely sold out) performance provided a colorful, amusing, quite wacky, and beautifully sung spectacle."
-Jane Dieckmann on Tolomeo, Ithaca Times
"'Toloemo' is a spectacular operatic achievement in every aspect."
-John Paul Keeler, Hudson-Catskill Newspapers
Read more 2010 reviews or leave a comment to let us know what you thought.