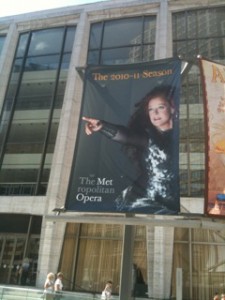 Deborah Voigt makes several notable debuts this year, including her performances as Annie in next summer's new production of  Annie Get Your Gun. Prior to that in April, Voigt takes on the role of Brünnhilde for the first time in Robert Lepage's new Metropolitan Opera production of Wagner's Die Walküre, conducted by James Levine. Here is an excerpt from an interview with Matt Dobkin at PlaybillArts.com back in March about her upcoming performance as Brünnhilde:
"PlaybillArts: Speaking of complicated roles, next season you'll sing your first complete Brünnhilde in Robert Lepage's new Ring. How are you feeling about that role?
Deborah Voigt: I'm excited and thrilled about it, but I would be lying if I didn't say that I am sort of daunted by the challenge. It's in the early stages, but I think it's where it should be at the moment. You know, once you take on Isolde and Brünnhilde, there's no going back. It is sort of the pinnacle of my career. But the timing is right given the repertoire that I've done and the experience that I have."
Read the full interview here.