Court Watson designs sets and costumes for our upcoming production of Annie Get Your Gun, which will feature leading dramatic soprano Deborah Voigt as Annie.
Court's designs have most recently been seen at Salzburger Landestheater, Ford's Theater, the Shakespeare Theatre in Washington, D.C. and Theatre Madgeburg in Germany. His production of Cabaret runs through March 27 at the John W. Engeman Theater at Northport. The New York Times review can be read here.
He took a break from his busy schedule recently to tell us a little about his designs for the Francesca Zambello-directed production of Annie Get Your Gun.
"Francesca and I were interested in exploring a time in American history when the real "Wild West" was already gone and we began to romanticize it in a fictionalized glossy way.  By the 1890s, there was a Transcontinental Railroad, and Cincinnati was a big city.  We looked at the graphic style of the period, from travel posters selling the idea of the Great West as well as folk art and barn paintings.  The idea of the sunburst actually came from [a] photo of the rooster on the side of a barn in Ohio, near where Annie Oakley was really from. This graphic style is a romanticized version of the natural landscape in the same way that the musical romanticizes the West, but keeps it late enough that the real West is already gone.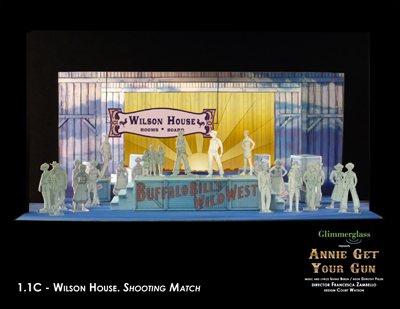 The space is essentially an open space, like the Prairie, that can easily reconfigure as the cowgirls and cowboys of Buffalo Bill's Wild West Show, in and of itself a celebration of the lost West, push crates of scenery and costumes around.  We are presenting their theatricalized version of the West, not the reality of the 1850s, long gone by the 1890s. 
Conveniently, there is a WEALTH of biographical information and wonderfully stage studio photographs of Annie and Frank.  We have drawn on them, along with period research to create a brightly colored world reminiscent of the Buffalo Bill poster art, tempered with real dirt and grime of these people working with live animals in the Great Outdoors."