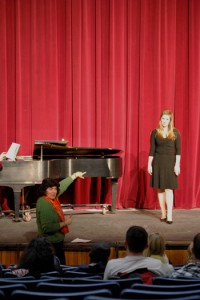 Abby Kreh Gibson, the Chair of the Glimmerglass Guild's Education Committee, writes about Artistic & General Director Francesca Zambello's recent trip to one of our nearby colleges:
The Guild Education Committee's past association with the Theatre and Music Departments at State University of New York (SUNY) College at Oneonta was the catalyst for Francesca's appearance January 26 on campus in the Goodrich Theatre.  She conducted a Master Class with four undergraduate students from the Music Department who sang arias from Mozart's The Marriage of  Figaro.  The Music Department's Tim Newton was the pianist.  Francesca immediately put the singers at ease and worked with them to bring a greater understanding of the characters they were portraying and how to better convey their emotions and feelings on the stage.
The Master Class was followed by a "conversation" with Francesca and Theatre Department Chair Patrice Macaluso and faculty member Drew Kahl.  The discussion focused on specific aspects of Francesca's career as well as her wide global experiences.  Questions asked were gathered from Theatre majors before the program as well as during the discussion.
The event was a great learning experience for all who attended – SUNY students, faculty and staff as well as members of the public.  It was also a fine example of Francesca's mandate to extend the outreach of Glimmerglass to the community.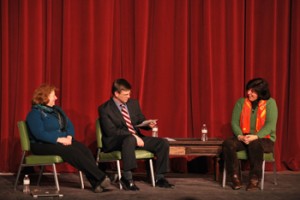 SUNY Oneonta presents The Marriage of Figaro March 16 through 19.