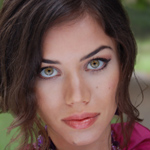 Ginger Costa-Jackson sings the title role in Anne Bogart's production of Carmen this summer. A graduate of the Metropolitan Opera Lindemann Young Artist Development Program, Costa-Jackson joins Glimmerglass in her role and company debut. Her recent performances include Nancy T'sang in Nixon in China and Wowkle in La Fanciulla del West at the Metropolitan Opera. She has also recently performed the role of El Gato in El Gato con Botas at Gotham Chamber Opera.
Here is a quick Q&A with Costa-Jackson:
What has been your favorite role and why? Carmen, bien sur! I've loved this opera, since before I started training as a singer. She is, in my opinion, one of the most passionate and honest (true-to-herself) female characters of all opera.
What is your dream role? Voila! Carmen.
Do you play golf or other sports? Not really, I was on soccer and swim teams growing up, but nowadays, jogging and dancing are my exercise.
Is your family involved in the arts as well and how? Both my parents have a musical background. My mother trained in pianoforte at the Vincenzo Bellini Conservatory, in Sicily. Later, I entered the same halls to begin my institutional study of voice. I was 17. My mother also has an uncanny knack with vocal coaching, although her own singing voice was lost some years back, because of a medical condition she had. My father's love for music included participation in choirs, and the Brigham Young University Barbershop Quartet. Mother's Italianity brought opera into our lives by the way opera resonates in our veins. Meanwhile, father introduced us to the love of cinema and show tunes. He had us listen to symphonies, and encouraged our young minds to figure out what instruments were playing, and what they were saying. These beginnings have given my two sisters and me a deep feeling and capacity for singing.
Are there any artists you feel particularly inspired by? The lineup of the greatest of the greatest for me includes Pavarotti, Bartoli, Stratas, Vickers and Callas. Between them you get perfect technique, joy of song, great dramatic expression and unique phrasing.
What do you sing or listen to for fun?  I love the old classics of Italian popular music from the '50-'70s like "O surdato 'nnammurato" by Massimo Ranieri. After that, I love Jazz and Enya.
What is your favorite meal? Do you cook it yourself or eat out? Anything my mother cooks is superlative! I am especially fond of Thanksgiving turkey with all the trimmings. I think it has to do with family feelings as much as the taste. Going out for sushi is also a treat.
What are your interests or hobbies?  Sketching cartoon figures and portraits, collecting and crafting things from nature, creative writing and scrapbooking keep me happily busy a good deal of the time.
Why are you most looking forward to the 2011 Festival at Glimmerglass?Glimmerglass is my first opportunity to sing all of Carmen. It is, in fact, my first lead role, and I rejoice in the complexity of Carmen's character and the variety of her music. My preparation led me to Paris to advance my French and specifically to work with Janine Reiss for a renewed integrity with Bizet. This role unexpectedly fits my voice better than Cherubino, or other roles one would anticipate for a 24-year-old like me. The thrill of Carmen is how she allows me to be more courageous than I really am. She enriches my life by her "Carmen has never lied" nature, which allows her to tell people exactly what she feels in the moment she feels it, even in the face of death. I hope to portray a Carmen who is youthful and strong, and not just an overtly sexual woman. Her struggle is to find love with a man who will allow her to be true to herself.