American conductor Kristen Blodgette makes her Glimmerglass debut this summer with the production of Annie Get Your Gun. She has conducted The Woman in White and Chitty Chitty Bang Bang on Broadway. Recently Blodgette worked on Mary Poppins and her upcoming project, conducting Evita, will mark the tenth time she has worked on Broadway. 
Get to know Blodgette with this quick Q&A: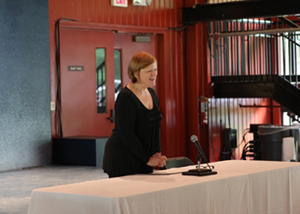 What inspired you to become a conductor?
I began playing the piano when I was 4.  I saw my first musical (THE MUSIC MAN) when I was 6. I was completely hooked. I continued to study classical music—while always having one foot in the world of musical theatre.
I moved to NY to continue to accompany in the operatic studios as well as to pursue Broadway theatre. I knew always—that this was what I wanted to do. I have a journal entry in which I wrote (at age 10) "I want to be a Broadway conductor."
What opera or musical have you conducted that you would most like to revisit and why?
I have been revisiting THE PHANTOM OF THE OPERA on and off for the last 23 years. It is ever evolving for me.
Is there a particular song in Annie Get Your Gun you appreciate most and why?
When I hear "I Got Lost in His Arms"——I melt. I always have, always will.  The lyrics, the harmonic build—-it is a gorgeous song. Such a very simple melody—but it says it all—"there you go"
Do you play golf or other sports?
Nope. No golf. Is reading considered a sport?
Is your family involved in the arts as well and how?
My husband is an artist.  He does contemporary, large canvas works in acrylic—-often, politically provocative. Our daughter, Emma, was raised in the theatre (she was the first Phantom baby born into the company—-she is now 22). She is extremely musical and drawn to the arts. She studied ballet at SAB. She is graduating in May (Summa cum laude, Phi Beta Kappa) with a degree in psychology from the Honor's College at the University of Maine. She is interested in theatre as well as psychology. She will be working as an Intern in the wardrobe department at Glimmerglass this summer.
Are there any artists you feel particularly inspired by and why?
I am inspired by Stephen Sondheim; the complexity of his music yet its accessibility, his masterful and poignant use of language/ lyrics.
What do you listen to for fun?
I grew up listening to Broadway, classical orchestral music, classical piano, opera, Barbra Streisand, Judy Garland and Liza Minnelli. I listen now primarily to Broadway shows. If I want to listen to something to relax—I listen to James Taylor, Carole King, Paula Cole, Jane Monheit…..Barbra Streisand, Bach.
What are your interests or hobbies?
Hmn. My interests; my family and my work
I enjoy gardening though I don't get to do it enough. I like to read. I am obsessed with New York City and I love walking the streets of the city.  I am a dog fanatic. We have two miniature wirehaired dachshunds.
What is your favorite meal? Do you cook it yourself or eat out?
I don't cook—I order! I love it all; Chinese, Thai, Indian, Mexican, pizza. Thank goodness for delivery and for NYC's diversity. I am a vegetarian.
Why are you most looking forward to the 2011 Festival at Glimmerglass?
I am looking forward to doing this wonderful show with Deborah, Rod, Francesca and this amazing company and orchestra at such a beautiful setting as Glimmerglass. I am thrilled to be conducting a large orchestra AND without a sound system.