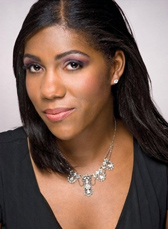 On August 5, members of the Glimmerglass Young Artists Program (YAP) will perform their very own matinee performance of Carmen.  J'nai Bridges is covering the title role for the season, but this Friday, she will have her own moment in the spotlight.  Since this performance will incorporate all of the Young Artist covers in a fully staged performance with orchestra, it provides the Glimmerglass audience an opportunity to see two different Carmen performances this season. 
I spoke briefly with J'nai Bridges about her approach to this notoriously intense character.
How long have you been preparing the role of Carmen?
I have been preparing the role of Carmen since last summer. I found out that I was singing the role in Tragedie de Carmen at my school, Curtis Institute of Music, in October of 2010. It is an abridged version of Carmen adapted by director Peter Brook, but to really get a sense of her character I started to study the whole score.
What has been most difficult, or most easy, about preparing the role?
For me the easiest aspect about preparing Carmen was simply learning the music. Bizet is such a genius in that mostly everything Carmen sings is so well written, catchy and fun. From the moment I opened the score and sang through it, everything fit like a glove, which always makes it easier to learn. The most difficult aspect for me has been putting myself in a "Carmen" mindset. At times it has been challenging to be a temptress in front of an audience. It's not in my character offstage, so it has been a great test to my acting ability. Everyday I find myself getting more and more out of my comfort zone with her, which is why this role is so exciting!
How would you describe the character of Carmen?
I do not think Carmen is as complicated as some might think. She is a quick-tempered woman who doesn't like to answer to anyone. She is very independent and lives by her own code. I believe she is always living in the present moment and will do almost anything to maximize her own pleasure. I also think she has immense interior security. Given the fact that she accepts her fate of death says to me that she is strong and will deal with absolutely anything that comes her way. Basically, she is a free spirit that does what she wants until she can't do anymore.
In what ways do you personally identify with the character, or not?
In Carmen's first aria she basically gives us a sense of how she functions by saying, "If you don't love me, I love you; if I love you, watch out for yourself". While I am not of this strategy, I do identify with her honesty and bluntness. I am a very honest person, and I tend to share my opinion or how I am feeling even if it is a little sharp. I also find myself sharing a bit of the free-spirit mentality as Carmen. I don't ever worry about what life will bring, rather I look forward to the next day and take or leave what it has to offer. Lastly, I identify with Carmen most with my persistent mentality. I truly think that anything is possible, and if I want something I will do what it takes to get it. Now sometimes that something may just not be in the cards, but I will at least give my utmost effort.
What do you find most intriguing about Carmen, not only the character, but the opera as a whole?
The aspect that I find most intriguing about Carmen is that you cannot anticipate what she's going to do next. Yes we know what is going to happen because there is a synopsis for us, but she really keeps us on our toes at all times. Because she is so independent and free-spirited, she does not take shame in any of her actions. Although I don't agree with the way in which she handles some situations, I respect her because she stands for what she believes!
How do you think the character of Carmen fits on the spectrum of mezzo-roles?  In other words, how do you think learning this role prepares you vocally, dramatically for other roles?  Or, is the role simply unique unto itself.
I think vocally the role of Carmen is a great introduction to the bigger dramatic mezzo roles. It definitely is a sing where one has to pace oneself. Pacing is an important method that needs to be applied to every role, but especially dramatic ones. Dramatically, I think Carmen is singularly unique unto itself solely because of what she stands for and how she does not budge for anyone. I don't know of any other mezzo role that is of such a free nature and is so strong- willed.                      
What is your favorite Carmen recording?
My favorite so far has been the 1975 recording with Troyanos, Domingo, Te Kanawa, Thomas Allen, and Sir Georg Solti conducting the London Philharmonic. I am in love with all of their voices and the tempos that Solti takes.   
Who has been your favorite mezzo in the role?
There have been so many legendary Carmen's, but I have to say I went to the Met and saw Elina Garanca in the role and she absolutely did it for me! Not only is she vocally consistent from top to bottom, but also her dramatic take was so clear. She was extremely sexy while not coming off as "over the top" or "slutty". As an audience member, I experienced every kind of feeling for her; I loved her, hated her, felt sorry for her, and laughed with her.                      
Carmen is considered one of the quintessential mezzo roles. Because of this history, how do you put your own personal touch and quality to the role following in the footsteps of some of the greatest who have portrayed it?
I am still figuring out on a daily basis how to put my touch on the role of Carmen. It is very easy to watch a million DVD's and say " ooo I like what she did" and alter it in your own way. I however, try to imagine myself in a specific Carmen situation and ask, "What would J'nai do?" I see Carmen as intensely sensual and alluring, and I try to bring that into every scene.
You can see J'nai, as well as Young Artists Dominick Rodriguez (Don Jose), Aleksey Bogdanov (Escamillo) and Andrea Arias-Martin (Micaela), in this one-time only performance this Friday, August 5 at 1:30 p.m. This is a wonderful opportunity to witness some of the best young American singers in the country.  All seats are $25 and can be purchased via the Glimmerglass website or by calling (607) 547-2255.
 – Zackery Hayhurst