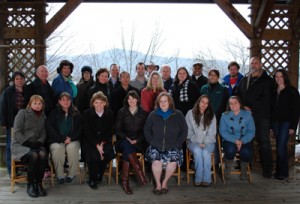 In the spirit of the holiday season Glimmerglass staffers have offered up some of their favorite listening during this time of year. I sent out a call for favorites, which resulted in a staff-wide e-mail conversation about holiday music. The conversation that ensued is below. With a mix of classical and popular music, this list will hopefully help you during this often hectic but joyful time of year.
"I'm a fan of Handel's Messiah. Or check out Chanticleer. They sing a lot of early music but also have quite a few Christmas albums."
Kristin Cook, Box Office Manager
"I love the Trans-Siberian Orchestra's Carol of the Bells."
June Dzialo, Marketing & Public Relations Manager
"'I'll be Home for Christmas' by Bing Crosby. It was co-written by James Kimball Gannon, who lived in my hometown of Greenwich. He was a legend in my town."
Andi Lyons, Director of Administration and Operations
"Handel's 'The Messiah'"
Corinne Peretin, Accounting Associate
"I'm a big fan of Harry Simone's 1958 album 'The Little Drummer Boy,' and the Charlie Brown Christmas album.  Also, the music nerd in me loves any and all old-school madrigals and carols related to Christmas and otherwise, especially 'The Holly and the Ivy,'  'The Coventry Carol,' and 'Bring a Torch, Jeanette Isabella.'"
Carolyne Hall, Assistant to the Artistic & General Director
"One of my favorite Christmas albums is 'A Very Special Christmas, Volume 1.' There are eight in the series, but this one includes everything from the Eurhythmics with 'Winter Wonderland' to  John Mellencamp  with 'I Saw Mommy Kissing Santa Claus' to Stevie Nicks with 'Silent Night,' and  proceeds from the sale of any of these benefit Special Olympics International. Definitely worth a listen."
 Dianne Ciano, Director of Housing & Transportation
"I hope that everyone knows that the John Denver and the Muppets Christmas album is the best Christmas album out there."
Abby Rodd, Director of Production
"No offence to the Muppets or the late John Denver, but I think a very strong case could be made for the Carpenter's 'Christmas Portrait.' Karen Carpenter's 'Merry Christmas, Darling' is just fantastic."
Richard Blanton, Company Manager
"My all-time Christmas favorite is José Feliciano's 'Feliz Navidad.'  I literally stop what I'm doing and dance whenever I hear it while I'm Christmas shopping.
Linda Jackson, Managing Director
"I think the most beautiful Christmas Carol is 'In the Bleak Midwinter,' and the one that's most fun to sing with children is 'The Friendly Beasts.'
Tara Sumner, Development Manager