Even though Glimmerglass is a summer festival, the company hosts many events all year.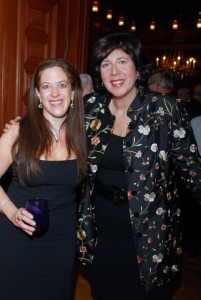 Leading up to the summer, The Glimmerglass Festival presents several events in New York City featuring performances by Glimmerglass artists. Last week we held our annual National Council Winter Gathering at a private home. The evening included a program of French baroque and contemporary music. Lisa Williamson, a 2012 Young Artist, began the program with a performance of "Caro Nome" from Verdi's Rigoletto. Performances followed by Young Artists Program alumni Anthony Roth Costanzo and Joélle Harvey, as well as by David Pittsinger and his young son Richard, who performed a world premiere piece by Scott Eyerly.
The Glimmerglass Festival National Council is comprised of donors who give $1,000 or more annually, many of whom also serve as ambassadors for the company by hosting Glimmerglass gatherings in their communities.
Take a look at some pictures from the evening here, on Socially Superlative.
Next on the schedule we hold GLIMMERATA!, the 2012 Spring Gala, on April 10 at The Metropolitan Club in Manhattan to benefit our Young Artists and Summer Internship programs. The evening will feature music, dinner and dancing, as well as performances by 2012 Glimmerglass Artist in Residence Eric Owens, David Daniels, Dwayne Croft, Sean Panikkar, Elizabeth Futral, Young Artist Dominick Rodriguez and more.
Hear Artistic & General Director Francesca Zambello speak on the event below: