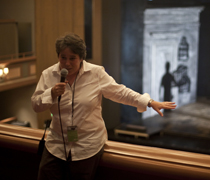 Join us for this free event at the Waterville Library on May 3 at 7 p.m. and hear from our Director of Production, Abby Rodd. She will discuss repertory theater production at Glimmerglass both now and looking back to when she began her career as a summer intern.
The program will focus on the four productions in the 2012 Festival:  Aida, Armide, Lost in the Stars and The Music Man.  She will also include comments on her recent trips to South Africa, Norway and Toronto for Glimmerglass.
The event is free and open to the public. The Waterville Library is located at 206 White Street, Waterville, NY.
See you there!