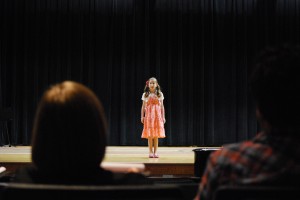 The Glimmerglass Festival held auditions on Friday and Saturday for the children that will appear in the upcoming productions of The Music Man and Lost in the Stars.
Artistic & General Director Francesca Zambello is very passionate about including children in our productions. She was on hand at the auditions, along with Company Manager Richard Blanton, Music Man Associate Choreographer Josh Walden and Tracy Allen, our Children's Chorus Coordinator. Children were asked to perform a song and monologue, and Josh taught them each a brief dance combination to perform.
All of the children did a wonderful job, and we send a big thank you out to everyone who auditioned – and to the parents that supported them in this endeavor!