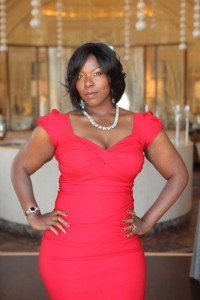 Soprano Michelle Johnson will sing the title role in this summer's new production of Verdi's Aida, directed by Francesca Zambello and conducted by Nader Abbassi. Michelle was a Grand Prize Winner of the 2011 Metropolitan Opera National Council Auditions. She has studied at the New England Conservatory, Boston University Opera Institute, and most recently, the Academy of Vocal Arts. She recently performed Leonora in Il Trovatore with Opera in the Heights and the title role in Manon Lescaut with Opera Company of Philadelphia. We learned a little more about Michelle with a Quick Q&A:
What is your dream role? Leonora from Verdi's Il Trovaotre.
Are there any artists you feel particularly inspired by? I'm always inspired by Leontyne Price, Sherrill Milnes, Maria Callas, Anna Netrebko, Renee Fleming and many, many more.
What do you do for fun? I love movies, restaurants, and cooking.
What was the last book you read? Tina Fey's Bossypants
Who have you been told is your celebrity doppelganger? Queen Latifah and Gabriel Union (not her body, just her face ;-)).
What is your favorite meal? Do you cook it yourself? I love cereal!!!! YES, I do cook it myself!
What is one thing most people don't know about you? I'm an introvert and shy.
Regarding your upcoming performances at Glimmerglass, what does the story of Aida have to say to us in 2012? Never give up and fight for what you want. Never let things such as race or status get in the way of your dreams.
Aida opens the 2012 Glimmerglass Festival July 7 and runs through August 25.