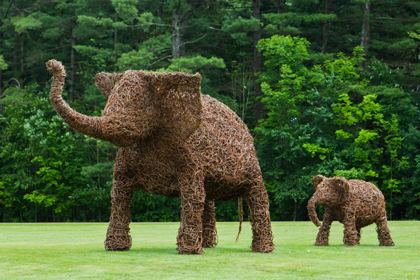 Verdi's Aida is often thought of as a grand spectacle, and in the past few months, fans have repeatedly asked one thing about this summer's production: will there be elephants?
Well, the elephants have arrived.
There won't be any live animals on stage this summer, but artist Elizabeth Schoonmaker has installed a pair of Aida­-inspired elephants on the south lawn of the Festival.  Constructed of grapevine and willow over a rebar frame, these two sculptures—one adult, and one calf—will make their home at Glimmerglass for the rest of the 2012 Festival.
With a background in visual art, Schoonmaker began building vine structures in the 1970s as a way to better understand her drawing style.  In the years since, she has constructed many animal sculptures in the driveway of her Town of Plainfield home—a stone's throw from Glimmerglass.
Schoonmaker composed a drawing of this specific elephant in March.  "I purposely exaggerated my original drawing in size, stance, head, ears and trunk," she said. "[I wanted] to make not just any elephant, but an Aida elephant."
After three months, 40 truckloads of vines, and 12 pairs of dollar store gardening gloves, the two elephants are complete.
The sculptures will be available for auction online beginning on July 7, the opening night of Aida.  Partial proceeds will go to The Glimmerglass Festival.
Read more about Elizabeth Schoonmaker and her work at elizabethschoonmaker.blogspot.com.