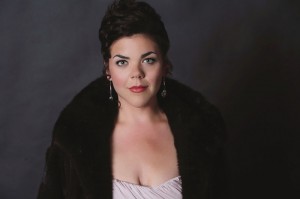 Our 2012 summer season begins on Saturday, July 7 with the opening night performance of Verdi's Aida in a daring new production by Artistic and General Director Francesca Zambello. In this Quick Q&A, Greek-American mezzo-soprano Daveda Karanas gives us a glimpse into the woman  behind the princess and shares her views on one of Verdi's most interesting characters.
With the musical sensitivity of Maria Callas and eyes as wide and expressive as Fiorenza Cossotto's, Daveda Karanas was born to sing the role of Amneris. After making her role debut as the jealous but wounded Egyptian princess with Arizona Opera in March of this year, Karanas will sing the role in this summer's production of Aida for her Glimmerglass debut. A winner of the 2008 Metropolitan Opera National Council Auditions, Daveda has already amassed an impressively varied repertoire of some of opera's most complex characters including Azucena in Il Trovatore (Opera Grand Rapids, 2012), the 2nd Norn and Waltraute in Francesca Zambello's staging of the Ring Cycle at San Francisco Opera (2010-2011 season), and Judit in Bluebeard's Castle at the Maggio Musicale Fiorentino in May of this year. This fall, she adds Marfa in Khovanshchina at Oper Frankfurt and Brangäne in Tristan und Isolde at the Canadian Opera Company to her growing list of fascinating, three-dimensional ladies.
Place of birth: Mandeville, Louisiana.
Place you consider home: Fort Worth, Texas.
Education: BM, Southeastern Louisiana University; MM, Arizona State University.
What is your dream role? How can I decide? My top three are: Judit in Bartók's Bluebeard's Castle, Kundry in Wagner's Parsifal, and Amneris in Aida.
Are there any artists you feel particularly inspired by?  I adore Christa Ludwig, Fiorenza Cossotto, Tatiana Troyanos, and Maria Callas.
What for you, is the pivotal moment in Amneris's journey? There are two pivotal moments in Amneris' journey. The first moment is when she notices the connection between Radamès and Aida, in the beginning of Act I. This begins her dire need to investigate and find out what is going on between Aida and Radamès. The second moment is when she tells Radamès that she loves him, during their duet in Act IV. This is the only time in the entire opera that she verbally expresses her feelings towards him. She tells him, "I loved you, I suffered so much…I lay awake at night in tears," to make him see and understand that her feelings are real for him.
Mezzo roles are often not the characters the audience is rooting for. What's it like to take on a schemer like Amneris? I'm a firm believer that you can't play these characters one-sided. Like all characters, Amneris is a multi-dimensional character that gets caught up in her own petty emotions and trickery which causes more harm than good.  I love trying to expose the softer, more vulnerable sides to these characters. It's unfortunate that Amneris gets a bad rap. Yes, she's a spoiled princess who gets everything she wants, but there is a vulnerable side to her. She is in love with Radamès, almost to the point of obsession, but can't seem to get past the social awkwardness to share her feelings with him. To Amneris, it's still a "man's world" where men are the ones who are forward, have dominant personalities, make all decisions, and pursue what they want. At the beginning of the opera, when she finally gains confidence to ask him if he has his eye on anyone, Aida comes in and ruins the moment. Amneris sees something in Radamès' face and, at that point, it becomes an obsession to find out what's going on between them.
If you hadn't become a singer, you would have: I love researching and have a knack for finding out secret information. I always kid to my friends and colleagues that if I weren't a singer, I'd work for the FBI or CIA.
What was the last book you read? I just finished Suzanne Collins' The Hunger Games Trilogy and am now reading Fair Games by Patricia Briggs.
Who have you been told is your celebrity doppelganger? I've only recently been told that I look like Maggie Gyllenhaal. I don't know. I guess? Perhaps we can find my doppelganger this summer!
Which do you prefer: chocolate or vanilla ice cream? Amneris has an obsession with Radamès, I have an obsession with ice cream. I love ALL flavors! It's not allowed in my house or I will consume it all!
What is one thing most people don't know about you? I grew up in a zoo. My parents own and operate their own grooming business & boarding kennel in southeast Louisiana.
What does the story of Aida have to say to us in 2012? Aida is timeless. When you take away the spectacle and grandeur of the opera, it is still a tragic story about a love triangle during a devastating war between two countries.