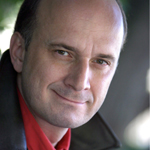 Baritone Dwayne Croft—a Cooperstown
native—will sing the role of Harold Hill in this summer's production of The Music Man.  In the early years of Glimmerglass, Dwayne took the stage in a number of children's roles and sang his first featured role with the company in 1982 as Yamadori in Madame Butterfly.  In 1996, Dwayne received the Richard Tucker Award, which honors an American singer "poised on the edge of a major national and international career."  Dwayne has appeared in more than 400 performances of 30 roles at the Metropolitan Opera, including the title role in Billy Budd, Pelléas in Pelléas et Mélisande, and the title role in Don Giovanni.  Before The Music Man opens on July 14, learn more about Dwayne in this quick Q&A:
What was the last good book you read?  Not a big reader, for a couple years anyway.  Loved the Dan Brown books, also Ken Follet's Pillars of the Earth.
What is your favorite place in Cooperstown?  My favorite place in Cooperstown has always been Council Rock.  Since high school, I love to go there because it's always quiet, serene, and stunningly beautiful.
What do you remember about your first time singing with Glimmerglass?  I started out in the chorus at Glimmerglass from the beginning in 1975. This is where I got the opera bug, and was the beginning of my life in the opera world. I believe I decided this is what I wanted to do in the season of 1977—we were doing Tales of Hoffmann and Tosca.
If you hadn't become a singer, you would have: Would have loved to be an actor in film and TV. Even more difficult to break into than opera!
Do you have any pre-show rituals? Performance days are about conserving energy, eating well, and concentration.
Any hidden talents?  Very good at remembering the musical themes in movies. Imagine movies without the music—it's such a major part of the impact the film has.
What is your guilty pleasure television show? Would have to be American Idol…I've watched every season.
What is one thing most people don't know about you? I'm addicted to politics!