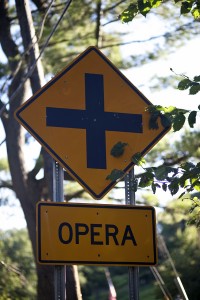 Audience members, staff, interns, and the artists themselves­­ – everyone has a favorite route to The Glimmerglass Festival.  Some travelers search out shortcuts, while others prefer to slow down and enjoy the scenery.
The company's Alice Busch Opera Theater is located in the bucolic countryside surrounding Cooperstown, New York, so a trip to the Festival is always scenic—no matter which route you take to get here.
Below, you will find Artistic & General Director Francesca Zambello's directions to the Festival from New York City.  She swears by them.
Share your preferred route in the comments section for others who may be traveling from your direction. Tell us your favorite places to shop, eat and visit along the way.
Francesca's Directions from New York City:
-87 North to ALBANY (approx. 120 miles – depending on where you get on 87)
-90 West (NYS THRUWAY) to exit 25A toward Schenectady/Binghamton (10 miles)
-88 West to EXIT 24 for US 20/Duanesburg (5 miles)
-20 West to RT 80/ SPRINGFIELD CENTER (45 Miles)
-Turn Left onto RT 80 SOUTH
-Drive 2 MILES south on 80.
-GLIMMERGLASS FESTIVAL on LEFT
If you have trouble commenting on the blog, feel free to e-mail your directions to publicrelations@glimmerglass.org and we will post them for you.
Thanks to Dr. Martha Farnsworth for kicking off this post with the directions from Ithaca found below.