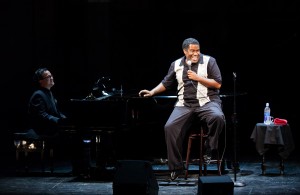 On Friday, July 27, the majesty and grandeur of the Alice Busch Opera Theater was transformed by the intimacy and casual elegance of the music of Billy Eckstine, sung by 2012 Artist in Residence Eric Owens. Just hours before the curtain was to rise on yet another performance of Aida, in which Owens sings the demanding role of Aida's father, Amonasro, the bass-baritone bewitched the audience with his humor, style, and genuine warmth.
Singer and bandleader Billy Eckstine was the first black male singer to achieve popular success; his career crested along with the racial tensions that would explode into the civil rights movement. The Billy Eckstine Orchestra, which he led and sang with in the 40s, was the training ground for some of jazz's biggest stars. Dizzy Gillespie, Charlie Parker, Miles Davis, and Sarah Vaughan all got their start experimenting and performing under Eckstine's tutelage. At the height of his fame the 1950s, Eckstine's popularity rivaled that of a blue-eyed singer from Jersey, Frank Sinatra.
 Owens chose to honor Eckstine with a program of some of the singer's most popular songs, opening with "Tenderly" and "My Foolish Heart," two songs that Eckstine made his own. Before each song, Owens addressed the audience with his unique candid humor and easygoing personality, mixing the background of the song with a personal story. "I've always wanted to date a girl named Laura so I could sing this song to her," he quipped before gliding into David Raskin and Johnny Mercer's "Laura." Known for his large and dramatic voice, Owens scaled  down his singing to a sultry jazz croon, emphasizing climactic moments in songs likes "Because You're Mine" and "Stella by Starlight," with the full-power of his bass-baritone. Joined by David Moody on the piano, the entire afternoon was like a three-way conversation between singer, pianist, and audience.