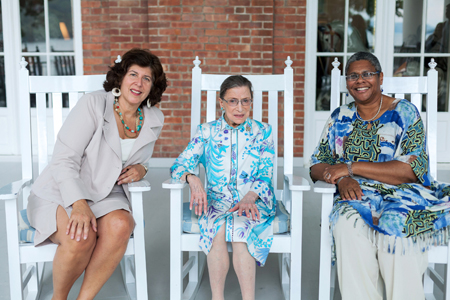 Glamour magazine recently announced Supreme Court Justice Ruth Bader Ginsburg as one of its 10 Women of the Year. Justice Ginsburg was honored with the Lifetime Achievement Award. Fellow Supreme Court Justice Elena Kagan said in the Glamour magazine article, "More than any other person, she can take credit for making the law of this country work for women. She is a transformational figure…and for me, an inspiration."
Justice Ginsburg inspires us as well. And last summer, she joined The Glimmerglass Festival for one of our ShowTalk lectures. The event, held at the nearby Otesaga Resort Hotel, sold out, and we organized a simulcast, so audience members could watch from another room.
Justice Ginsburg will return in 2013 for a special expanded program in the Alice Busch Opera Theater, bringing together her knowledge of the law and passion for opera. Members of our Young Artists Program will perform selected scenes that deal with issues of the law and justice, and each excerpt will be followed by Justice Ginsburg's comments.
We are thrilled to have her return, and enjoyed reading about her in the December issue of Glamour.