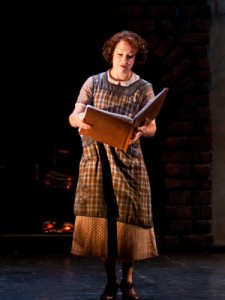 So, you've already read every Verdi and Wagner biography on the market in preparation for next summer – and a few out-of-print ones, too? Here are a few suggestions to set the mood for the fanciful and legendary side of the 2013 Glimmerglass Festival.
There are a number of illustrated versions of Hans Christian Andersen's The Little Match Girl available. For a different take on the story, try Matchless: A Christmas Story, in which Gregory Maguire (author of Wicked and Confessions of an Ugly Stepsister) tells the story from the point of view of a little boy who makes only a brief appearance in Andersen's tale.
In 2013, Glimmerglass will launch a new series of literary readings in collaborations with historic Hyde Hall, located in nearby Glimmerglass State Park. We will focus on American Romantic writers, such as James Fenimore Cooper, Emily Dickinson, Edgar Allen Poe, and more. Washington Irving, another writer form this period, grew up in the Hudson River Valley and is most famous for the stories of Rip Van Winkle and The Legend of Sleepy Hollow. In addition to revisiting these old favorites, be sure to check out The Storm-Ship, in which the "Flying Dutchman" makes an appearance on the waterways of Central New York!
Want to know more about King Arthur's life before the Round Table? T.H. White's The Once and Future King begins with the unconventional education of young "Wart" and takes us through his adventure with the sword in the stone before reaching the material that Lerner & Loewe used as a basis for Camelot.
— Kelley Rourke