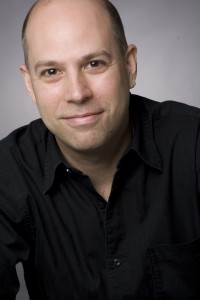 A native of Batavia, New York, who calls New York City home, James Lowe is a leading conductor of opera and musical theater. Lowe is currently conducting Lyric Opera of Chicago's production of Oklahoma!, and he recently served as the Music Director and Conductor of the Tony Award-winning Broadway revival of Anything Goes, starting Sutton Foster and Joel Grey, for which he was nominated for a Grammy Award. This past season he made conducting debuts with Utah Opera with Of Mice and Men, as well as the Jacksonville Symphony.
This summer, Lowe conducts our new production of Camelot, directed by Gary Griffin and starring Nathan Gunn as Lancelot, David Pittsinger as King Arthur and Andriana Chuchman as Guenevere.
Here is our Quick Q&A with James Lowe:
Why do you think a piece like Camelot still speaks to us today?
The idealistic goals of King Arthur's round table are as important today as ever.  Every time I see Camelot I am moved that, amidst all of the chaos and divisiveness that has sprung from the crumbling of Arthur's dreams, he begins to hope again.  There is still a horrific amount of war, violence and hatred in our world, but this piece celebrates idealism and reminds us that each generation must pass on the dreams of peace and honor to the next.  And the colorful score is still as fresh as it was 50 years ago.
Do you have a favorite moment in the score?
"Before I Gaze At You Again" is as intimate and tender a song as anything Loewe wrote.  But I think my favorite moment is the final scene between Arthur, Pellinore, and the young boy Tom.  The timing of Arthur's final speech with the orchestral underscoring and offstage chorus is very tricky to execute, but is incredibly powerful when it all comes together.  This was Lerner and Loewe working together at their finest.
For our readers to get to know you a little better:
Any pre-show rituals?
I'm not much for rituals, but I do try to always get outside and do something active on the day of a show – my brain always feels more energized that way.  And then I'll try to find time to review my score and eat something on the lighter side.  Of course, when I'm doing an eight-show-a-week, Broadway-type schedule, rituals tend to go out the window and I just try to get enough sleep!
What was the last book you read?
Last book I finished: Travels with Charley in Search of America by John Steinbeck.
Currently reading:  One Hundred Years of Solitude by Gabriel Garcia Marquez
What is your favorite meal? Do you cook it yourself?
I love Mexican food – taco night is kind of a big deal at my house.
If you hadn't become a conductor, you would have:
In my fantasy world, I'd have been a professional hockey player. But in the real world, a teacher.
What is one thing you absolutely cannot live without?
My son.  But since you asked for "thing," I'll go with my guitar.
What is one thing most people don't know about you?
I was the lead singer, keyboardist, guitarist and songwriter for a rock band (Backwash) throughout my 20s.
Why are you most looking forward to the 2013 Festival at Glimmerglass?
I've been so impressed with the quality of productions I've seen in the past at Glimmerglass, and I'm looking forward to working with a wonderful cast, orchestra and team in such a beautiful setting!