Director Francesca Zambello is working with designer Troy Hourie to set our new production of Strauss' Ariadne in Naxos in an Upstate New York country home, potentially complete with some farm animals. Goats and chickens are some of the animals that have been discussed.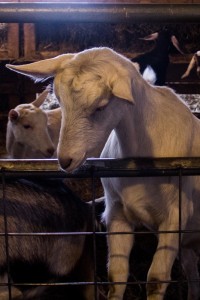 "Ariadne could be in Naxos, or she could be in Utica, Ithaca or Syracuse this summer," Zambello has said of the production.
Director of Production Abby Rodd and I stopped by Beekman 1802 Farm, home of the Beekman Boys, to do some research for next summer. Farmer John was kind enough to take time out of his very busy day – the farm is home to 125 goats, many of which are still milking – to talk to us about how we might prepare for goats on the Glimmerglass campus. (We think we put in a lot of hours during our summer festival, but we wouldn't want Farmer John's schedule!)
With eight performances, and many rehearsals, we need animals accustomed to the spotlight, as well as a handler with the time to go to and fro. Don't worry; we'll also make sure the cast, including Christine Goerke who stars as Ariadne, isn't allergic to any livestock. We will keep you updated on our goat plans!
Thanks again to the Beekman Boys and Farmer John!